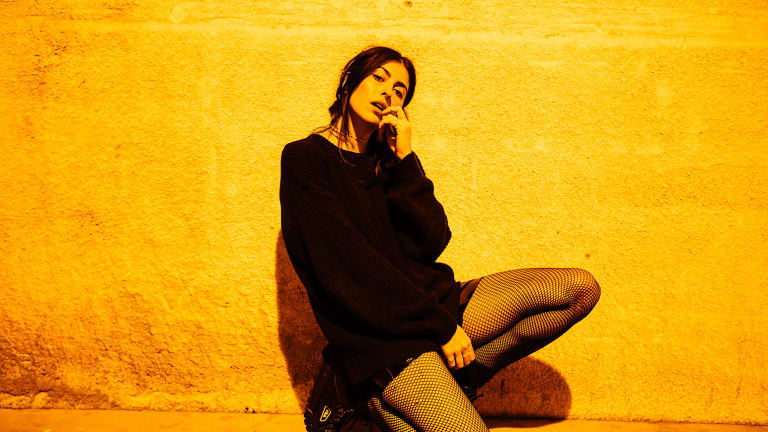 Anna Lunoe & Sleepy Tom Release New Track 'Stay Awake' [LISTEN]
It's not hard to stay awake for this impressive collaboration.
Anna Lunoe and Sleepy Tom release their distinctive, vivifying, and enticing track called "Stay Awake" a week before Lunoe begins stomping away on her sure-to-be-fire-breathing Godzilla tour.
The track warms up with a pumping, heavy bassline, and an impassioned narrative. "I came up with the spoken word intro idea one morning that week - just seemed like a fresh concept that I hadn't done for a long time and can be really epic when done right," states Lunoe. "[Sleepy Tom and I] needed to break the formula we had and come at it from a totally different angle as to not be compared or compete with the last one," she adds.Between the spoken word narrative and heavy pumping bassline is an even heavier deep house drop, which complements Lunoe's upcoming Godzilla tour superbly.

"Anna and I wrote 'Stay Awake' start to finish in my Vancouver studio," states Sleepy Tom. "We wanted to make a song that would be great to play at the beginning of our DJ sets. One that would hit the reset button on the crowd and lure them in before bringing the energy back." This was absolutely accomplished with "Stay Awake"!
Anna has had an extremely hectic touring schedule recently. This schedule has allowed her to open for The Weeknd, be the first solo female performer on the main stage at EDC Las Vegas last year, and tour with Diplo and Nina Las Vegas in Australia last month.

Lunoe's talents don't stop at just being a DJ, though. She curates a live-recorded "Anna Lunoe presents: HYPERHOUSE" each week, which airs worldwide on Apple Music's Beats1 Radio. During her curation of HYPERHOUSE, she has had weekly guests such as Diplo, Jamie XX, Dillon Francis, Krewella, and Jai Wolf among others.
Anna will perform at the Coachella festival for the second time and then begin stomping and blowing fire for the Godzilla tour on April 7th in Washington D.C. The Godzilla tour will then take Lunoe pulverizing through San Francisco, Portland, Arizona, New York, Philadelphia, Boston, and finally Chicago on May 12th.
See Anna Lunoe's Godzilla tour:
Fri 4/07 - Washington, DC @ Echostage
Sun 4/16 - Indio, CA @ Coachella
Sun 4/23 - Indio, CA @ Coachella
Thu 4/27 - San Francisco, CA @ 1015 Folsom
Fri 4/28 - Portland, OR @ 45 East
Sat 4/29 - Tempe, AZ @ Wet Republic
Thu 5/04 - Brooklyn, NY @ House of Yes
Fri 5/05 - Philadelphia, PA @ Coda
Sat 5/06 - Boston, MA @ Ascend
Fri 5/12 - Chicago, IL @ The Mid