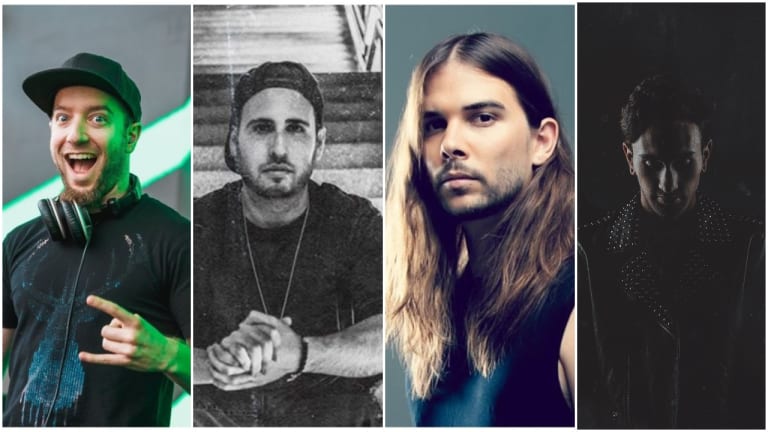 Excision, Wooli, Seven Lions, and Dylan Matthew Release Acoustic Rendition of "Another Me"
This collab keeps getting better.
Excision (real name Jeff Abel), Wooli (real name Adam Puleo), Seven Lions (real name Jeff Montalvo), and Dylan Matthew have released an acoustic version of their mega-collab "Another Me" out via Montalvo's Ophelia Records.
Stripping away all electronic elements, the acoustic version of "Another Me" feels even more touching than the original. While the added piano is a beautiful touch, it's Matthew's passionate voice that carries the track. Undoubtedly, fans of any of the artists as well as the original tune will find this a welcome addition.
In September, Abel released his highly anticipated collaborative EP with Puleo, Evolution. He's refused to slow down, however, as he recently dropped his annual Lost Lands compilation alongside his annual Lost Lands mix. While 2019 is coming to an end, Abel's plans for 2020 seem to bigger than ever before. The bass music legend will debut his new stage production, aptly named The Evolution, at his second annual The Thunderdome in Tacoma, Washington. Find tickets here.
FOLLOW EXCISION:
Facebook: facebook.com/Excision
Twitter: twitter.com/Excision
Instagram: instagram.com/excisionofficial
SoundCloud: soundcloud.com/excision
FOLLOW WOOLI:
Facebook: facebook.com/woolimusic
Twitter: twitter.com/woolimusic
Instagram: instagram.com/woolimusic
SoundCloud: soundcloud.com/woolimusic
FOLLOW SEVEN LIONS:
Facebook: facebook.com/SevenLions
Twitter: twitter.com/SevenLionsMusic
Instagram: instagram.com/sevenlionsmusic
SoundCloud: soundcloud.com/seven-lions
FOLLOW DYLAN MATTHEW:
Facebook: facebook.com/itsdylanmatthew
Twitter: twitter.com/itsdylanmatthew
Instagram: instagram.com/itsdylanmatthew
SoundCloud: soundcloud.com/itsdylanmatthew