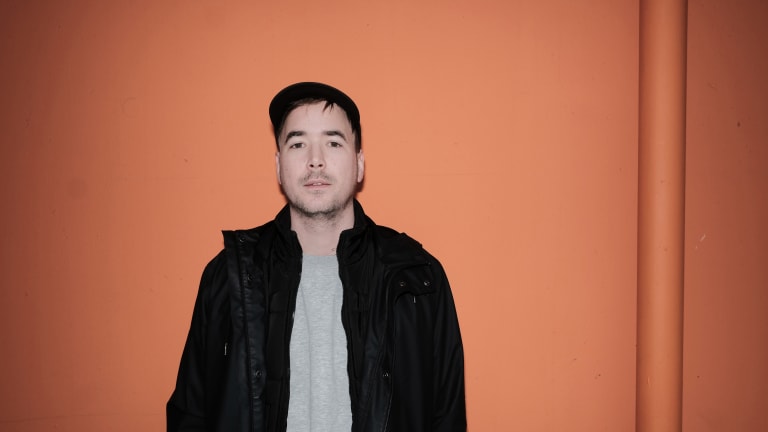 Aparde Explores Deeply Cathartic Aesthetic With New Album, Hands Rest
Aparde's second studio album, Hands Rest, is an emotional journey through his own conflicted consciousness.
The second studio album by German composer and musician Aparde (real name Paul Camillo Schroeder), Hands Rest reflects the essence of Berlin's club scene and offers the listener a glimpse into the depths of Schroeder himself, far from clubs and live sets and immersed in a world that is both intimate and profound. "I think that I always process circumstances unconsciously in my music and that my way of thinking is full of internal conflicts," said Schroeder.
The album Hands Rest, which was created over the span of a year, has a deeply cathartic and nostalgic aesthetic. "The process was very diffused in terms of time, because over the past year my life circumstances have been very complicated and often frustrating, and I had to motivate myself again and again," said Schroeder. 
While working on the album, he was processing his own thoughts and feelings after the end of a long relationship. Listeners will recognize this and be captivated by the varying soundscapes that accompany Aparde's own internal unrest as it is reflected through his music. "[The breakup] was accompanied by numbness and repression. This was followed by a period of inactivity and the thought of ending my activity as a musician," he said. 
There is a great deal of Aparde's personal character manifest in Hands Rest, not only through his meticulously crafted songs but also through the use of his own voice. "I use my voice in each track either as a sound element or as a lyrical component, that is, as classical pop songwriting." Aparde's lyrics expose an honest fragility that provides a striking contrast to the harder electronic elements.
The title track "Hands Rest" (music video included above) showcases Aparde on his journey to bring listeners deep into the inner machinations of his mind, a consciousness that is at times conflicted and agitated, and at other times low key and solemn. As Aparde embraces and accentuates this seemingly contradictory array of emotions, the listener's own mood is both muted and lifted. "I learned that the power of your own thoughts can affect your personality and your own reality," he said. "Now I try to use this consciously to lead a happy life. I hope that my music can continue to make me and others happy and inspired."
Stream or Download "Hands Rest" today.
Upcoming Tour Dates:
18.05. Bahnwärter Thiel, Munich (Germany)
25.05. Futur2 Festival, Hamburg (Germany)
07.06. Ritter Butzke, Berlin (Germany)
12.06. Corsica Studios, London (UK)
15.06. Cross Club, Praha (Czech Republic)
12.07. Feel Festival (Germany)
26.07. Atom Festival (France)
27.07. Harry Klein, Munich (Germany)
10.08. Fabric, London (UK)
12.08. Sommer Klein, Cesme (Turkey)
06.09. Klaus, Zurich (Switzerland)
07.09. Viertel, Basel (Switzerland)
14.09. Festival Cool V Plote, Pisek (Czech Republic)
18.05. Bahnwärter Thiel, Munich (Germany)
25.05. Futur2 Festival, Hamburg (Germany)
07.06. Ritter Butzke, Berlin (Germany)
12.06. Corsica Studios, London (UK)
15.06. Cross Club, Praha (Czech Republic)
12.07. Feel Festival (Germany)
26.07. Atom Festival (France)
27.07. Harry Klein, Munich (Germany)
10.08. Fabric, London (UK)
12.08. Sommer Klein, Cesme (Turkey)
06.09. Klaus, Zurich (Switzerland)
07.09. Viertel, Basel (Switzerland)
14.09. Festival Cool V Plote, Pisek (Czech Republic)
FOLLOW APARDE:
Facebook: facebook.com/apardeofficial
Twitter: twitter.com/apardeofficial
Instagram: instagram.com/apardeofficial
SoundCloud: soundcloud.com/aparde