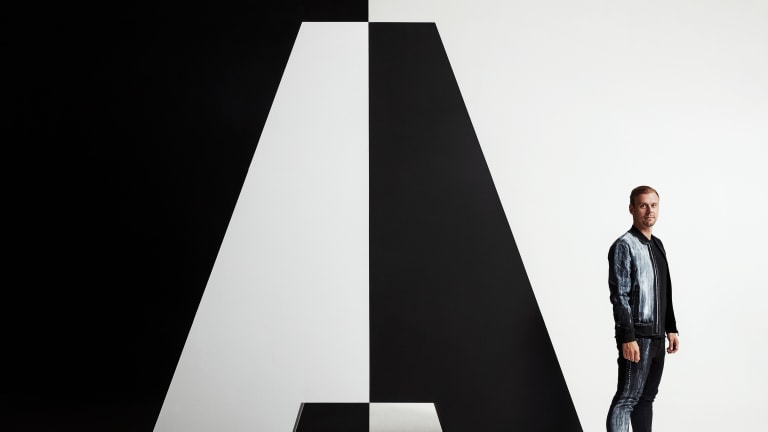 Armin van Buuren Drops Seventh Artist Album, Balance
The Dutch D/producer teamed up with renowned street artists to decorate New York, Mexico City, and Amsterdam with Balance murals.
The wait is finally over. Balance, the seventh artist album from the legendary DJ/producer Armin van Buuren is here. 2019 has to be one of the busiest years in the producer's illustrious career. Not only has he had a heavy touring schedule but he also dropped an impressive 31 releases, including singles, remixes, and even a full album under his Gaia alias. All this hard work was a lead up to the drop of Balance, a 28-track collection that embodies van Buuren's journey into the next phase of his career. 
To celebrate the debut of the album, the Dutch superstar enlisted the help of three well-known street artists to unveil three Balance-themed murals in New York, Mexico City, and Amsterdam. The collaboration with HoxxoH, Solteroarte, and Mr. June each represent the core values of the album and the personal story behind it. Upon arrival at each mural, fans can scan the art piece for a Spotify code that will lead visitors to the album so they can simultaneously experience the art and music. 
Mural locations: 
Mexico City, Mexico – Tehuantepec 273, Colonia Condesa (HoxxoH)
New York, the U.S. – Brooklyn, East Williamsburg, 345 Troutman St. (Solteroarte)
Amsterdam, the Netherlands – Nieuwezijds Voorburgwal 353 (Mr. June)
Featured on the two-sided album are the previously released "Waking Up With You" featuring David Hodges, "Mr. Navigator" with Tempo Giusto, "It Could Be" with Inner City, "Don't Let Me Go" featuring Matluck, "All Comes Down" ft. Cimo Fränkel, and his latest, "Unlove You" featuring NE-YO. As promised, this collection of tracks is truly an eclectic journey of styles representing van Buuren's message of balance in music. Artists need not be boxed into a certain genre. 
On the topic of Balance, van Buuren said:
"Every song I make teaches me something new, and the next song is always a result of all my previous records, the new things I learned and the people I met. Over the years, this process - and especially the fun of creating - became more and more important to me. It's a journey that gives me meaning and helps me learn more about my personal interests rather than focus on the recognition I get for the outcome. That's the big difference between who I am today and who I was a few years ago. Balance is a new chapter in my book of life, the result of venturing into known and unknown territories while finding the balance in between. This creative journey gives me the energy to do what I do, to keep going, and that message has been perfectly translated into the stunning murals in Mexico City, New York, and Amsterdam."
Balance comes just a week after van Buuren secured his 18th consecutive Top 5 spot in this year's DJ Mag Top 100 DJs poll, coming in at #4 in 2019. With a career spanning over 20 years, very few can compare with the success he's seen over the years. His ability to adapt to the times is evident in this album. He recently discussed his journey to reach balance in all aspects of his life in a telling sit down with a Dutch talk show, speaking on not only the album but his legacy and mental struggles.  
Stream and download Balance by Armin van Buuren here. 
FOLLOW ARMIN VAN BUUREN:
Facebook: facebook.com/arminvanbuuren
Twitter: twitter.com/arminvanbuuren
Instagram: instagram.com/arminvanbuuren
SoundCloud: soundcloud.com/arminvanbuuren