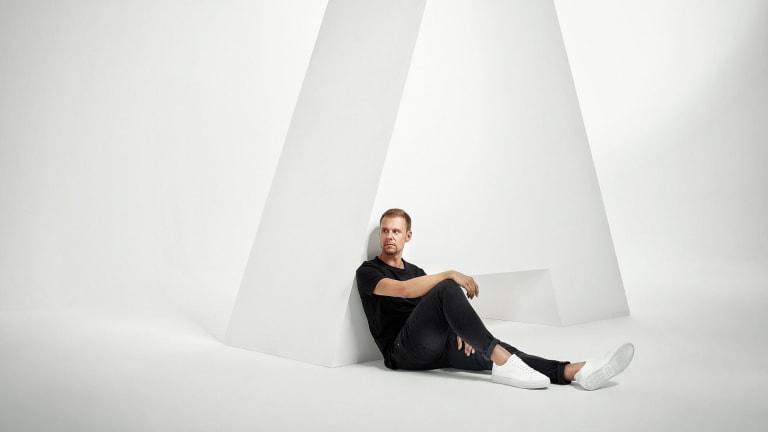 Armin van Buuren Delivers Non-Traditional V-Day Anthem "Lonely For You" ft. Bonnie McKee
Armin van Buuren does breaks?
Famed Dutch producer Armin van Buuren is here to give lovers and those who are still on the hunt something to dance and sing their hearts out to with his latest release, "Lonely For You." The track features vocals by American singer/songwriter Bonnie McKee. 
The high-energy, "drum and bass-inspired" single is a new sound for van Buuren and highlights the iconic producer's experimental side. Fans will also be able to enjoy the track's accompanying music video that beautifully conveys the back and forth struggles that relationships go through.  
The track enters with McKee's lush vocals as it transitions into some catchy breaks. The unexpected beat structure is layered expertly with poppy chords that compliment the emotional chorus. It's a vibrant track that ties in perfectly with the message. Relationships waver from time to time. What's important is taking a step back and realizing, is this person right for you or are you fighting to keep them because you don't want to be alone?
On the topic of "Lonely For You" McKee said: 
"'Lonely For You' is a song about recovering from losing someone, picking up the pieces and putting one foot in front of the other to move on from them – almost. Sometimes, we are able to logically talk ourselves out of loving someone, and even feel relieved that they're gone…but in the lonely hours of darkness in the still of the night, those feelings can creep up from the shadows and suck us back into the trap of missing that someone, even if we know they're not right for us."
For over 20 years, Armin van Buuren has been one of the world's biggest DJs and producers in electronic dance music. His lifelong dedication to the scene has even earned him a Grammy nomination for "This Is What It Feels Like" (featuring Trevor Guthrie). The DJ/producer claimed the number one spot in The annual DJ Mag Top 100 DJs poll a whopping five times. His weekly A State of Trance radio show is broadcast from his own radio studio in the Armada HQ to over 40 million listeners in more than 80 countries.
In addition to all of this, van Buuren is the co-founder of Armada Music, the Amsterdam-based record label founded in tandem with Maykel Piron and David Lewis. The label is acclaimed internationally for releasing music across the electronic music spectrum and is the six-time winner of Best Global Record Label at the International Dance Music Awards in Miami.
Bonnie McKee is no stranger to the upper reaches of the music industry. Throughout her blossoming career, she has (co-)written songs for global superstars such as Katy Perry ("Part Of Me," "Wide Awake," "California Girls," "Teenage Dream," and "Last Friday Night (T.G.I.F.)"), Taio Cruz ("Dynamite"), Britney Spears ("Hold It Against Me"), Elliot Yamin, Rita Ora, Ke$ha, Cheryl, Adam Lambert and Rusko.
FOLLOW ARMIN VAN BUUREN:
Facebook: facebook.com/arminvanbuuren
Twitter: twitter.com/arminvanbuuren
Instagram: instagram.com/arminvanbuuren
SoundCloud: soundcloud.com/arminvanbuuren
FOLLOW BONNIE MCKEE:
Facebook: facebook.com/BonnieMcKeeOfficial
Twitter: twitter.com/BonnieMcKee
Instagram: instagram.com/bonniemckee
SoundCloud: soundcloud.com/bonniemckee