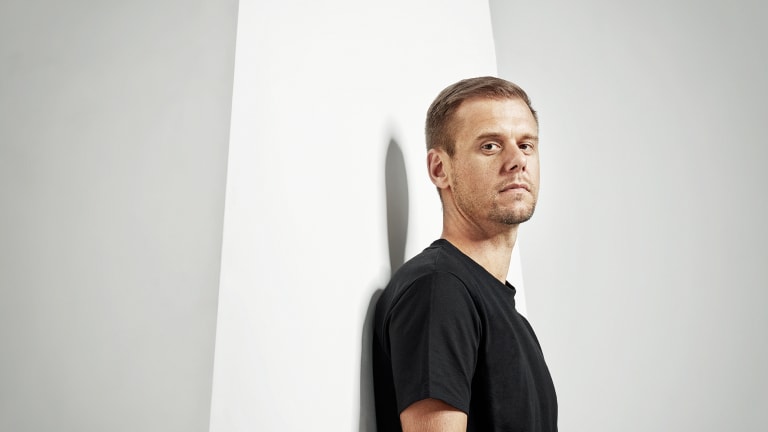 Armin van Buuren Releases "Cosmos" ft. Alexandra Badoi Under Rising Star Alias
AvB kick-started pre-order of A State of Trance, Ibiza 2019 with a new Rising Star single.
Trance titan Armin van Buuren first debuted his now-famous Rising Star moniker 20 years go. He's now back for with the eighth drop from said alias with the single "Cosmos" featuring Romanian singer/songwriter Alexandra Badoi. This release is one of the 44 tracks featured on van Buuren's upcoming A State Of Trance, Ibiza 2019 mix album set to be released August 16. 
"Cosmos" is a beautiful single sung in Badoi's native language. Her melodic vocals intertwined with van Buuren's mesmerizing production is set to get main stages across the world swaying in harmony. Without even understanding the lyrics to the track you feel the emotions and longing the two artists are trying to convey. 
Of "Cosmos," Badoi said:
"Singing for – and creating a track with – Armin van Buuren is a dream come true for me. The lyrics of 'Cosmos' are in my own language, Romanian, and I feel that only strengthens the belief that music is a universal language, as 'Cosmos' is all about sharing pure emotion. I am so honored to work with [him] and deeply grateful for all the amazing people in my life who keep supporting me!"
As van Buuren is gearing up to drop the latest A State Of Trance album, the producer has officially opened up pre-order as of this writing. The series has been dominating the trance industry since 2004 and has changed the face of the genre. 
AvB's love and appreciation for Romania have been at an all-time high as of late. Earlier this month news broke that he would deliver the official anthem for UNTOLD Festival. Along with with the anthem, the legendary producer will perform the longest main stage live set ever. The set will land on his very own dedicated day, billed as "Armin UNTOLD day." 
FOLLOW ARMIN VAN BUUREN:
Facebook: facebook.com/arminvanbuuren
Twitter: twitter.com/arminvanbuuren
Instagram: instagram.com/arminvanbuuren
SoundCloud: soundcloud.com/arminvanbuuren