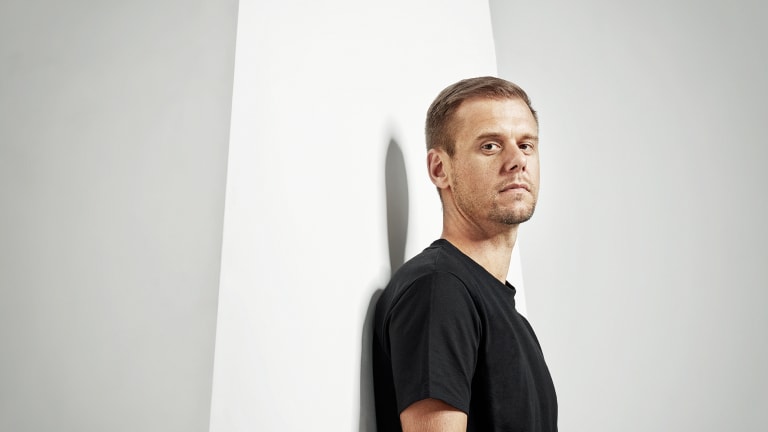 Armin van Buuren Announces that Gaia's First Album will Arrive Next Week
Armin van Buuren's "pure trance" side project is gearing up for a milestone release.
Longtime Armin van Buuren fans who reminisce about the Dutch superstar's trance heyday ought to rejoice in the news of his upcoming effort. Last week he revealed that something called Moons of Jupiter would arrive by way of Gaia, his "pure trance" side project with Benno de Goeij. He's followed it up by clarifying that it would be the duo's first studio-length album.
During the 918th episode of his A State Of Trance podcast, van Buuren made the announcement in no uncertain words:
"Uncompromising! That is the word that springs to mind when I think about my new Gaia album. the first ever Gaia album. I went into the studio with my buddy Benno [de Goeij] to create new music as the alias Gaia and the result is the moons of Jupiter. Twenty-one brand new tracks ranging in styles from ambient, chill out, melodic techno, trance, whatever you want to call it. I wanted to go back to my roots as an artist and make an album that is also a monument to my childhood heroes. This album will drop on June 21st, next week, and on limited edition for vinyl. Each track is named after one of the satellites orbiting Jupiter, the biggest planet in our solar system."
Meanwhile, Armin van Buuren will resume touring with a performance at Hï Ibiza on June 19th.
H/T: Your EDM
FOLLOW ARMIN VAN BUUREN:
Facebook: facebook.com/arminvanbuuren
Twitter: twitter.com/arminvanbuuren
Instagram: instagram.com/arminvanbuuren
SoundCloud: soundcloud.com/arminvanbuuren