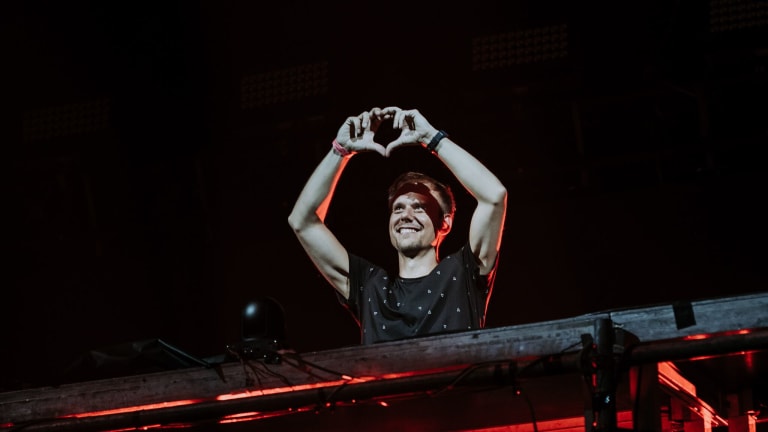 Armin van Buuren and Inner City Bridge Amsterdam and Detroit with "It Could Be"
It's the latest track off van Buuren's forthcoming album, Balance.
Armin van Buuren is here to deliver his most unexpected collaboration of the year with Detroit's very own Inner City. "It Could Be" unites Amsterdam with Detroit, one of the most influential U.S. cities in the electronic music industry. The pairing of these producers racks in more than fifty years of dance music experience and a multitude of global hits. The track is the third release off of van Buuren's forthcoming seventh album, Balance.
On "It Could Be," van Buuren said: 
"To work with Inner City is a dream come true for me. They were already setting the tone in the dance music scene back when I was only just taking my first steps in the industry. Their hits are timeless, their sound remains evergreen and their creativity in the studio was so inspiring. I'm super proud of the end result, as it shows all that could be when you are open-minded and willing to get inspired by sounds, styles or genres that are different from your own."
The single features a funky, upbeat production. The sexy vocals paired with the groove-inducing beat channels everything we've come to know and love from Inner City tracks. The hook is a catchy vocal chop that brings it right up to 2019. This is the collaboration we never knew we needed. It's proof that these timeless artists can continue to reinvent themselves while still delivering top-of-the-line productions. 
Kevin Saunderson of Inner City said:
"I'm excited to have done this collaboration as both the Inner City and Armin van Buuren history goes way back. We've both seen and heard the scene change over the years, but ultimately our aim is the same, to uplift people through the power of music. So here it is, Detroit meets Amsterdam."
Originally formed in 1987, Inner City have become one of the most influential dance groups of all time. The duo, originally composed of Kevin Saunderson and vocalist Paris Grey, have championed the Detroit electronic music scene with chart-topping hits such as "Good Life" and "Big Fun." 
2019 birthed a new era for the group. Saunderson has enlisted the help of his son Dantiez to bring the iconic name into present day. This year, they took Inner City on a live tour throughout Europe - their first tour in two decades. "It Could Be" follows their latest record, "Need Your Love" featuring Steffanie Christi'an. 
Balance, the seventh full-length studio album from Armin van Buuren, is set to be released October 25th. With previous releases including "Waking Up With You" and "Mr. Navigator," it's clear this album is a new journey for him.  The highly anticipated release will be an eclectic mix of styles we've yet to hear from the seasoned producer. 
While waiting for Balance to be released, stream and download "It Could Be" here. 
FOLLOW ARMIN VAN BUUREN:
Facebook: facebook.com/arminvanbuuren
Twitter: twitter.com/arminvanbuuren
Instagram: instagram.com/arminvanbuuren
SoundCloud: soundcloud.com/arminvanbuuren
FOLLOW INNER CITY:
Facebook: facebook.com/innercitydetroit
Twitter: twitter.com/innercitydet
Instagram: instagram.com/innercitydetroit
SoundCloud: soundcloud.com/inner-city-official