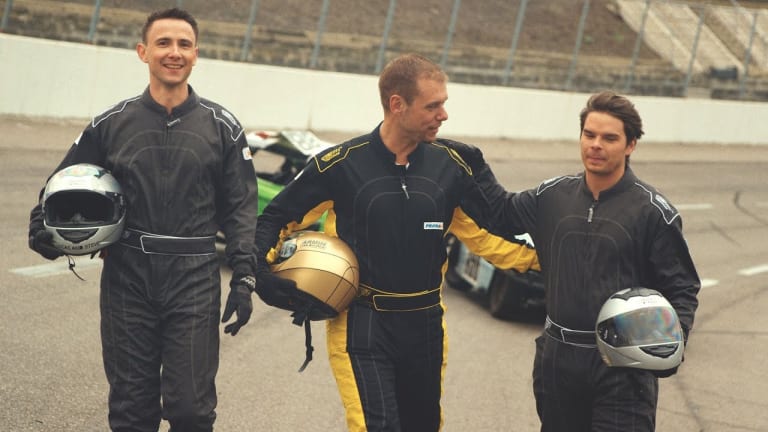 Armin Van Buuren and Lucas & Steve Release "Don't Give Up On Me" ft. Josh Cumbee
The three battle it out in the studio and on the track
It seems like every week there is a new Armin van Buuren track for fans to enjoy, and this week is no different. The legendary Dutch producer is back with a collaboration with the Dutch duo Lucas & Steve. The track, "Don't Give Up On Me" features vocals from Josh Cumbee. It has big room anthem written all over it. 
The track opens with Cumbee's soft vocals. It has a tropical vibe to the production. As the song develops we get into that classic four on the floor beat pattern that makes this the emblematic dance track. This will be a perfect song for beach parties this summer with the infectious trop-pop lead. 
Along with the track is a fun music video that pits van Buuren against the Dutch duo. The producers are set up as race car drivers duking it out on the track.  In the end, the three end up beat out by a fiery vixen in red. They walk off into the distance uniting just as they have in the song. 
Armin van Buuren has not stopped killing it since he entered the scene over 20 years ago. His most recent accomplishments include scoring a residency at one of the hottest new nightclubs on the Vegas strips, a recent release with his label Armada Music, and the continued success of his event series "A State of Trance."
Lucas & Steve have been making waves in the industry as of late. They are best known for high spirited productions including "Summer On You" which reached 54 million streams on Spotify. They are currently out at Miami Music Week along with Armin van Buuren so make sure you catch them while you can. 
H/T: EDMTunes
FOLLOW ARMIN VAN BUUREN:
Facebook: facebook.com/arminvanbuuren
Twitter: twitter.com/arminvanbuuren
Instagram: instagram.com/arminvanbuuren
SoundCloud: soundcloud.com/arminvanbuuren
FOLLOW LUCAS & STEVE:
Facebook: https://www.facebook.com/lucasandsteve
Twitter: https://www.twitter.com/lucasandsteve
Instagram: https://www.instagram.com/lucasandsteve