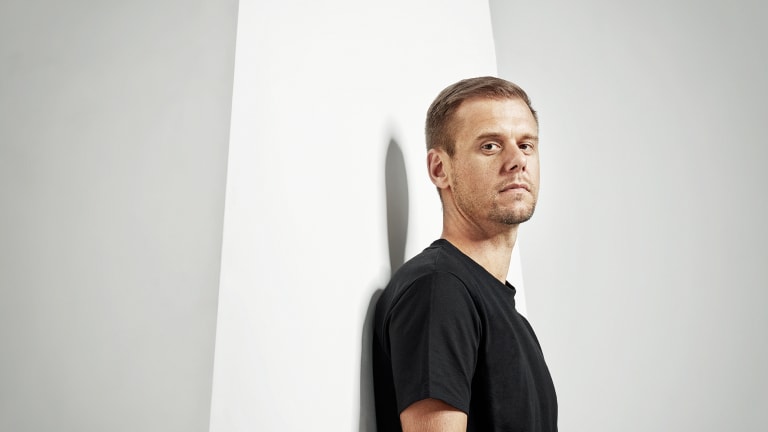 Armin van Buuren and Tempo Giusto's "Mr. Navigator" is Officially Out
This is the second release off van Buuren's forthcoming album.
Armin van Buuren fans have been waiting for this day all summer long. The Grammy-nominated Dutchman has officially dropped "Mr. Navigator," an ID he's been playing live a lot during his recent sets, including his incredible Tomorrowland performance. The track, which is a collaboration with the Finnish tech trance producer Tempo Giusto, hooked fans from its debut with those infectious vocals and fist-pumping beats. This release follows behind "Waking Up With You" as the second single from van Buuren's forthcoming album, Balance.
"Mr. Navigator" takes off with distinct bars commanding the track over a light drumming in the background. The producers build off that pumping energy even more as they layer in punching bass and sirens galore. You can see Giusto's tech trance influence written all over this track. It's an edgy release that is the perfect start to any weekend.
Giusto has made a major impact on the trance scene since his debut in 2008. He boasts an impressive total of nine top 10 hits on Beatport. Markus Shulz has listed him as one of the top emerging talents in the scene. After teaming up with the legendary Armin van Buuren, there is no doubt his career is going to keep skyrocketing.  
For that matter, van Buuren is keeping his fans busy until the release of his next full-length studio album, Balance. The album, set for official release October 25th, and is said to be "a new chapter in my book of life, the result of venturing into known & unknown territories while finding the balance in between." After hearing his first two releases, it's clear he will not be boxing himself into any one genre. The Dutch producer has been around since 1996 and still has the ability to successfully reinvent and challenge the scene, yet again solidifying his legendary status. 
FOLLOW ARMIN VAN BUUREN:
Facebook: facebook.com/arminvanbuuren
Twitter: twitter.com/arminvanbuuren
Instagram: instagram.com/arminvanbuuren
SoundCloud: soundcloud.com/arminvanbuuren