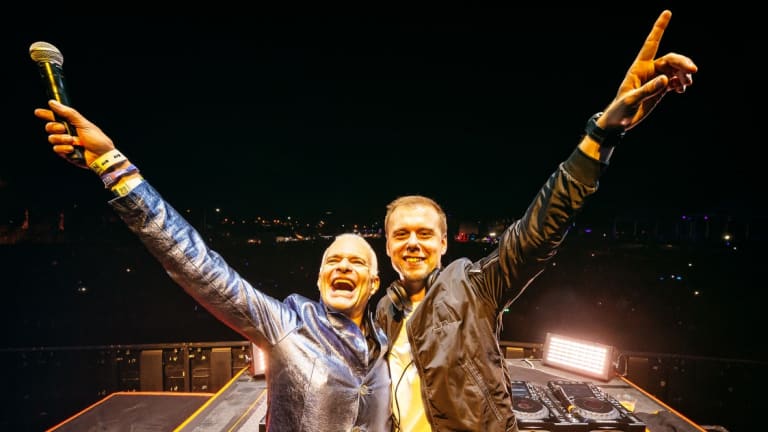 Armin van Buuren Remixes the Mighty Van Halen's "Jump"
Armin van Buuren teamed up with David Lee Roth to give "Jump" an update.
Armin van Buuren's newest remix has been a highly anticipated one since it was first teased at Ultra Music Festival. Armin put his spin on Van Halen's 1984 hit "Jump," bringing the classic rock hit to the festival music main stage in an unforgettable way. 
During his Ultra Music Festival performance, Armin kicked off his main stage set with a surprise. Van Halen frontman David Lee Roth joined the producer on stage unveiling the project and performing the remix for the first time.
Roth has not been shy about his appreciation for dance music over the years. In fact, his affinity for listening to dance music over rock was made even more apparent in a comment made by Eddie Van Halen. "It's hard, because there are four people in this band, and three of us like rock and roll," he said. "And one of us [Roth] likes dance music."
With Roth's background and appreciation for the genre, it's no wonder Armin van Buuren received his blessing on this remix effectively outfitting this classic rock anthem for the modern dance music era.
Listen to Armin van Buuren's remix of "Jump" here. 
FOLLOW ARMIN VAN BUUREN:
Facebook: facebook.com/arminvanbuuren
Twitter: twitter.com/arminvanbuuren
Instagram: instagram.com/arminvanbuuren
SoundCloud: soundcloud.com/arminvanbuuren