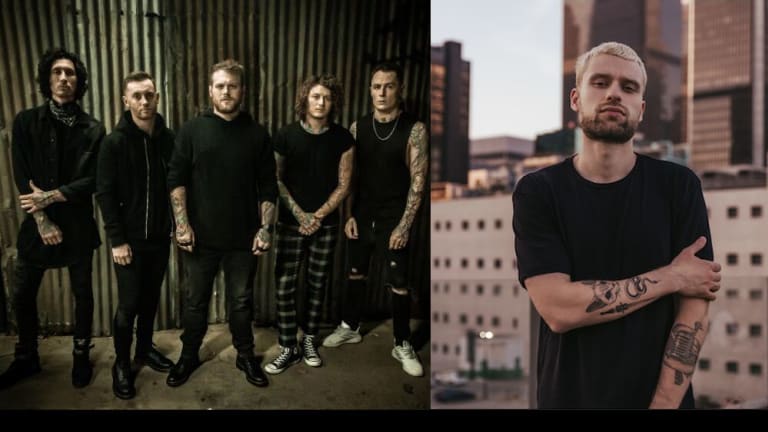 Asking Alexandria's "The Violence" Gets Energizing Sikdope Remix
The latest anthem to come from British rock band Asking Alexandria got reimagined by Polish beatmaker Sikdope.
English rock band Asking Alexandria enlisted the talents of multi-faceted producer Sikdope to rework their July hit single, "The Violence." The track's release is accompanied by a zombie-inspired visualizer.
Polish producer Sikdope has built quite the repute as an eclectic beatsmith in the studio. From his signature supercharged bass-house to minimalistic trap beats and even radio-ready pop tracks, he shows no fear diving deep into unexplored genres. 
"I've been a fan of Asking Alexandria for as long as I can remember," he said. "They're also great friends of mine, so of course, I was thrilled when they asked me to remix 'The Violence.' I sang in a rock band as a teenager so remixing this track felt like second nature to me; I got to go back to my roots but also showcase the evolution of my sound." 
Asking Alexandria guitarist Ben Bruce added:
"I'm a firm believer that the best collaborations come from when artists come together through a true and real connection. A great collaboration can't be forced; they are born from mutual respect and passion. In this case, Sikdope and I had been friends and mutual fans of each other's work for many years prior to this collaboration. We went out for dinner one night and decided, spur of the moment, to collaborate! I'm so excited that we finally got to work together and through combined efforts have created such a MONSTER of a tune." 
"This remix feels like such an accomplishment for me because when I was in a band as a kid," Sikdope added, "my dream was to have a release on Sumerian. Now I'm on it as a DJ."
Stream or download Sikdope's remix of "The Violence" today. 
FOLLOW SIKDOPE:
Facebook: facebook.com/Sikdope
Instagram: instagram.com/sikdope
Twitter: twitter.com/Sikdope
Soundcloud: soundcloud.com/sikdope
FOLLOW ASKING ALEXANDRIA:
Facebook: facebook.com/askingalexandria
Instagram: instagram.com/askingalexandria
Twitter: twitter.com/AAofficial
Soundcloud: soundcloud.com/asking-alexandria-official