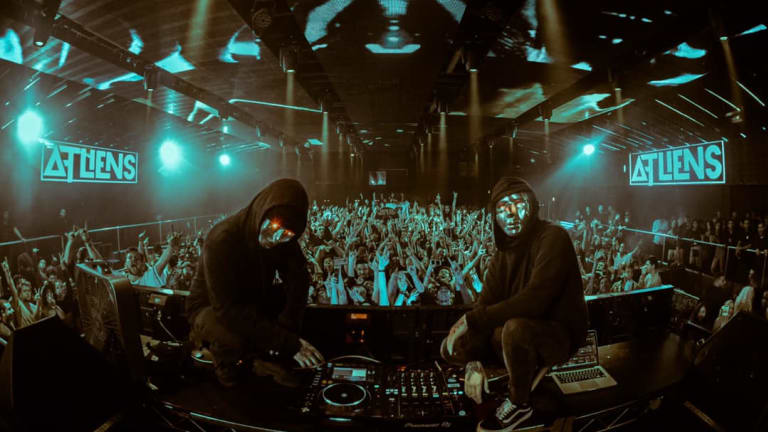 ATLiens Resume Extra-Terrestrial Bass Invasion with "Closer" via Insomniac's Bassrush Records
ATLiens collaborated with mau5trap alumni EDDIE on a bass-heavy new single titled "Closer" for release on Insomniac Records sub label Bassrush Records.
Emerging from the shadows of Atlanta, Georgia, masked DJ/production duo ATLiens have been invading the airwaves with their unique brand of alien-inspired, undeniably ruthless bass music since the release of their debut single "Chief" with Astronamar, Bot and Neo's Main Course imprint. 
A sci-fi-inspired fusion of hard trap, tribal bass, and out-of-this-world melodies, ATLiens' signature sound brings to mind the idea of a full-on extraterrestrial invasion. Deep, dark, gritty and even haunting at times, ATLiens' uniquely evil brand of interstellar audio assaults has set them on a collision court with musical greatness.
Their most recent release, "Closer," is an unearthly collaboration with mau5trap alumni EDDIE. The lead single from their forthcoming Ghost Planet EP with Insomniac Records imprint Bassrush Records, "Closer" gives us a taste of ATLiens leveled-up sonic on onslaught. A throaty bass growl provides an ominous foundation for sinister martian scratching and an overwhelmingly eerie ambiance. 
A testament to the dynamic and intricately textured musical stylings of ATLiens, "Closer" is a ruthless followup to their previous single "Contact," a collaboration with Kannibalen Records' resident monster of midtempo bass, Blanke. If "Closer" is any indication of what is yet to come, expect ATLiens forthcoming Ghost Planet EP to bring about the end of civilization as we know it.
Stream or Download "Closer" today.
FOLLOW ATLIENS:
Facebook: facebook.com/ATLiensOfficial
Instagram: instagram.com/atliensofficial
Twitter: twitter.com/ATLiensOfficial
Soundcloud: soundcloud.com/atliens
FOLLOW EDDIE:
Facebook: facebook.com/whoizeddie
Instagram: instagram.com/whoiseddie_
Twitter: twitter.com/whoiseddie_
Soundcloud: soundcloud.com/whois_eddie
FOLLOW BASSRUSH:
Facebook: facebook.com/bassrush
Instagram: instagram.com/bassrush
Twitter: twitter.com/bassrush
Soundcloud: soundcloud.com/bassrush