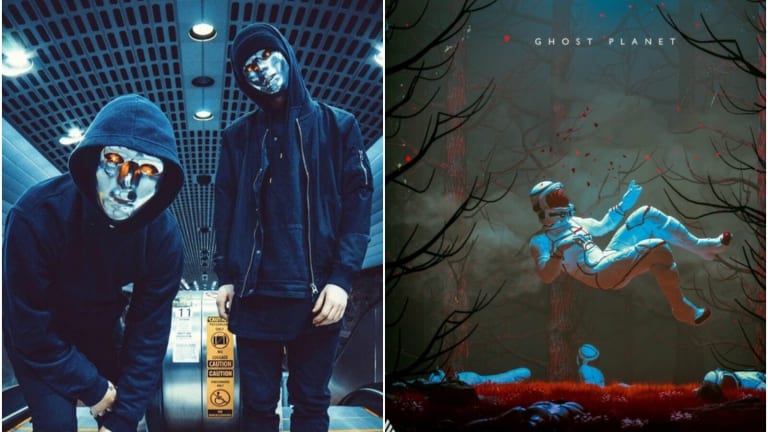 ATLiens' Chilling Sophomore EP, Ghost Planet, is Finally Out
The forceful, seven-track effort, which features collaborations with Hairitage, EDDIE, and Sara Skinner, is out now on Insomniac's Bassrush Records.
One of the most interesting acts to watch dominate the bass music scene in recent years has been the anonymous extraterrestrial duo ATLiens. 
Their first hit single "Chief" was debuted by none other than the legendary Skrillex himself during his infamous Boiler Room set back in 2015. In 2017 they collaborated with Bassnectar on the explosive single "Interlock," and then in 2018 they aggressively expanded their cult following with a packed schedule including eight official releases throughout the year. 
As 2019 reaches its halfway mark, the masked duo has returned in force with Bassrush Records for their highly anticipated and truly chilling sophomore EP, Ghost Planet. 
The seven-track effort is a filthy compilation of supernatural sounds, booming bass, and eerie atmospheres. Ghost Planet opens with "SCP-231," which serves as a warning to listeners of the sinister musical invasion yet to come. The EP quickly moves into "Shelter," which was the second single to release off the long-awaited project just two weeks ago. Listeners are transported to the duo's otherworldly dimension, surrounded by the ominous tribal bass line and haunting vocals. From downright evil to melodic, Ghost Planet transitions smoothly into "Fading Out" featuring Sara Skinner.
OG fans will likely recognize her name from the duo's first EP, Invasion, where the three collaborated on the haunting single "Interstellar." After discovering an undeniable chemistry on their first song together, they have brought back the talented singer/songwriter for another hauntingly beautiful song.
Listeners are taken on a supercharged, visceral journey with Ghost Planet as the EP moves on to it's fourth and heaviest track, "Fuck That." It's easy to argue that this song has one of the deepest and most forceful bass lines, and it certainly highlights the duo's immaculate, minimalistic style of sound design.
Coming off the hypnotizing "Fuck That," listeners are met with "Tantra," which features chanting vocals similar to that of "Shelter." Unlike "Shelter," "Tantra" puts a trap spin on the tribal chant and is packed full of stylistically trippy production. Similar bubbling sounds at the end of "Tantra" can be heard throughout the intense, grimy build of the next song, "Exterminate," on which they collaborated with rising talent Hairitage. Ghost Planet ends with the first album single "Closer" with EDDIE, which received a spine-chilling music video. 
To commemorate the EP release, Bassrush has released a limited-edition Ghost Planet T-Shirt on Insomniac Shop. Fans interested in purchasing the exclusive piece can pre-order here. 
Up next for ATLiens is a handful of festival performances, including Moonrise Festival in Baltimore and Excision's Lost Lands Festival. The duo have also teased the possibility of a larger tour coming soon in the fall; visit here for tour information and tickets.
ATLiens Tour Dates:
7/27 - Foam Wonderland - Riverside, CA
8/10 - Bass Country - Grand Rapids, MI
8/11 - Moonrise Festival - Baltimore, MD
9/5 - Dancefestopia - La Cygne, KS
9/28 - Lost Lands - Legend Valley, Ohio
10/26 - FreakyDeaky - Baytown, TX
Stream or download ATLiens' Ghost Planet EP, out now on Bassrush Records. 
FOLLOW ATLIENS:
Facebook: facebook.com/ATLiensOfficial
Instagram: instagram.com/atliensofficial
Twitter: twitter.com/ATLiensOfficial
Soundcloud: soundcloud.com/atliens
FOLLOW BASSRUSH:
Facebook: facebook.com/bassrush
Instagram: instagram.com/bassrush
Twitter: twitter.com/bassrush
Soundcloud: soundcloud.com/bassrush