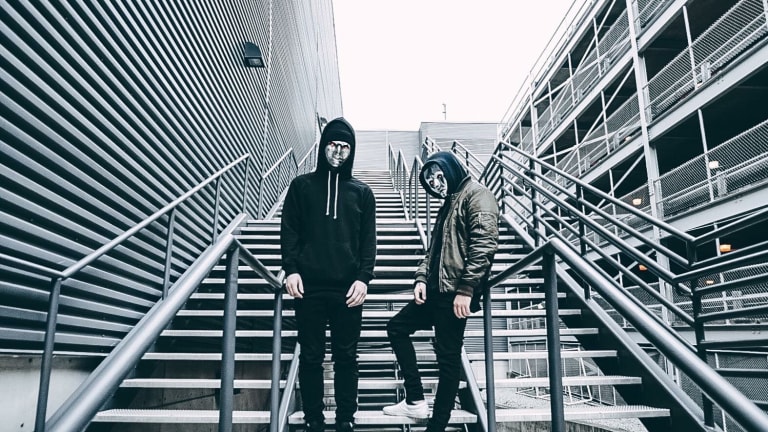 ATLiens Drop Massive Remix Pack with LekTriQue, Bro Safari, Jacknife and More [Premiere]
Broken into two parts, the ATLiens Ghost Planet Remix EP is jam-packed with otherworldly bass.
Earlier this year, the mysterious Georgia-based duo ATLiens unleashed their explosive Ghost Planet EP via Insomniac Records imprint Bassrush Records. Jam packed with haunting bass, extraterrestrial soundscapes, and truly out-of-this-world sound design, the effort showcased the group's heavy-hitting production chops and unique aesthetic.
Following up on the smash success of the Ghost Planet EP, Bassrush and ATLiens have put together one of the biggest official remix packs of all time. In fact, the remix pack is so loaded with heavy-hitters that they've had to split the remixes into two separate releases. Out today, the first pack puts the spotlight on a variety of bass masterminds such as Bro Safari, Jacknife, and LekTrique, all of whom have come together to put their own stylistic twists on their favorite records from the Ghost Planet EP. 
For his contribution to the release, LekTrique brings a heavy dose of dark, tribal madness  to ATLiens' "Tantra." EDM.com is honored to share with our readers the premiere of the Kannibalen regular's post-apocalyptic electro monstrosity of a remix. Dark and brooding with all the makings of a crunchy tribal ritual, LekTrique's "Tantra" remix maintains the otherworldliness of the original while infusing it with his distinct, heavy electro sound.
If the original Ghost Planet EP satisfied your cravings for evil bass music, this massive batch of unearthly remix gold is sure to hit the spot.
Check out the LekTrique Remix of "Tantra" and snag the first batch of remixes today.
FOLLOW ATLIENS:
Facebook: facebook.com/ATLiensOfficial
Instagram: instagram.com/atliensofficial
Twitter: twitter.com/ATLiensOfficial
Soundcloud: soundcloud.com/atliens
FOLLOW LEKTRIQUE:
Facebook: facebook.com/Lektrique
Twitter: twitter.com/Lektrique
Instagram: instagram.com/lektrique
SoundCloud: soundcloud.com/lektrique
FOLLOW BASSRUSH:
Facebook: facebook.com/bassrush
Instagram: instagram.com/bassrush
Twitter: twitter.com/bassrush
Soundcloud: soundcloud.com/bassrush