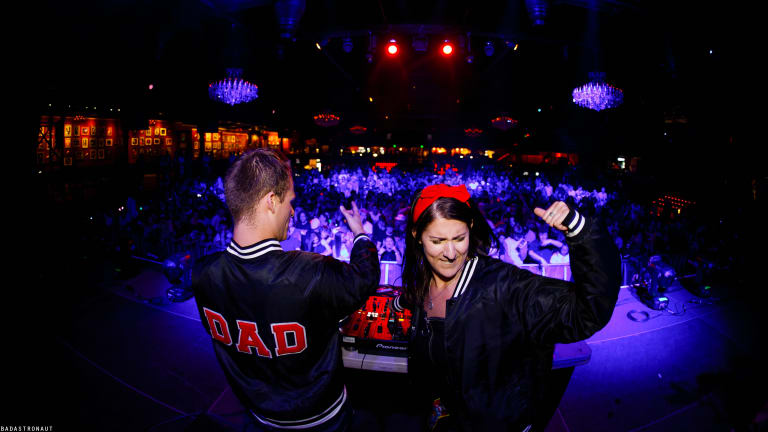 ATLiens and Bassrush Records Release Mega Remix Pack Pt. 2 [Mom N Dad Remix Premiere]
Rising midtempo stars Mom N Dad bring some serious heat to the ATLiens "Ghost Planet" Remix EP.
As part of the 'biggest remix pack ever,' ATLiens and Bassrush Records just dropped the second batch of top-notch remixes for their critically acclaimed "Ghost Planet" EP that was released earlier this year.
With a massive lineup of remixes from heavy  hitters like Bro Safari, as well as rising stars such as Mom N Dad, SWARM, and Moore Kismet, ATLiens have fully cemented their position as masters of evil, extraterrestrial bass. 
Today, EDM.com is proud to premiere the remix from Colorado midtempo masters, Mom N Dad. Putting a high-energy spin on ATLiens and Sarah Skinner's "Fading Out," the Colorado duo brought their signature melodic midtempo flair to the table and kicked things into ultra high gear.
Crunchy, visceral, and utterly electrifying, Mom N Dad's excellent contribution to the Ghost Planet remix pack will have even the most diehard midtempo aficionados drooling and begging for more. 
Stream or Download the Mom N Dad Remix of "Fading Out" today.
FOLLOW MOM N DAD:
Website: momndadtunes.com
Faceboook: facebook.com/MomNDadTunes
Twitter: twitter.com/MomnDadtunes
Instagram: instagram.com/momndadtunes
SoundCloud: soundcloud.com/momndadtunes
FOLLOW ATLIENS:
Facebook: facebook.com/ATLiensOfficial
Instagram: instagram.com/atliensofficial
Twitter: twitter.com/ATLiensOfficial
Soundcloud: soundcloud.com/atliens
FOLLOW BASSRUSH:
Facebook: facebook.com/bassrush
Instagram: instagram.com/bassrush
Twitter: twitter.com/bassrush
Soundcloud: soundcloud.com/bassrush