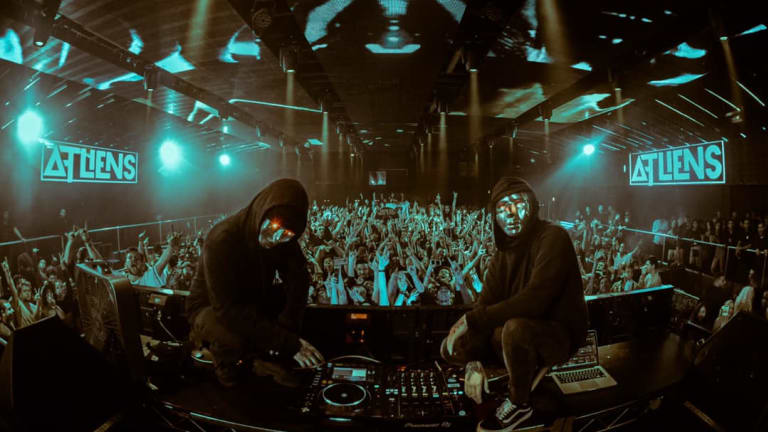 ATLiens Drop Second Single "Shelter" from Forthcoming Ghost Planet EP on Insomniac's Bassrush Records
The masked duo isn't slowing down with their third official release of 2019 thus far.
Coming off of their successful release of "Closer" with mau5trap alumni EDDIE just under a month ago, the masked Atlanta duo ATLiens is back to bring us "Shelter," the second single off their highly anticipated Ghost Planet EP.
Heading into the otherworldly dimension of ATLiens, "Shelter" opens with a cinematic chant before listeners are met with their final warning, "Find shelter immediately!" The drop packs a sinister, gritty, downright evil bass line perfectly paired with just-as-haunting cover art to match the song's eerie yet futuristic sound. 
"Shelter" highlights the forward-thinking approach the duo brings to the typically oversaturated bass music scene. Since their debut in 2015, ATLiens have been putting their own extraterrestrial twist to dubstep and trap. With three releases already out in 2019, "Shelter" is only a fraction of what to expect from their Ghost Planet EP.
ATLiens will bring their heavyweight sound to festivals stages across the United States throughout the summer with performances at Trapfest, Dancefestopia, and Excision's Lost Lands. All tour information can be found here. 
Stream or download ATLien's new single "Shelter," out now on Insomniac's Bassrush Records.
FOLLOW ATLIENS:
Facebook: facebook.com/ATLiensOfficial
Instagram: instagram.com/atliensofficial
Twitter: twitter.com/ATLiensOfficial
Soundcloud: soundcloud.com/atliens
FOLLOW BASSRUSH:
Facebook: facebook.com/bassrush
Instagram: instagram.com/bassrush
Twitter: twitter.com/bassrush
Soundcloud: soundcloud.com/bassrush