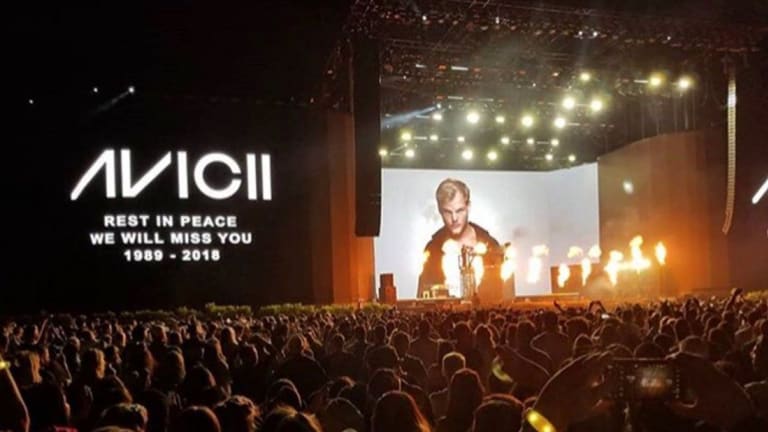 Concert Version of Avicii's "Fades Away" Released Ahead of Tribute Live Stream
The new version of the track features MishCatt and will be performed at the Avicii Tribute Concert in Stockholm.
Avicii's posthumous album, TIM, was released earlier this year and featured an assortment of new material from the late producer and EDM superstar. Among the tracks featured was "Fades Away" featuring Noonie Bao. Today, a special "Concert Version" of the track was released that features MishCatt on vocal duties.
This new version of the track was created specifically for the Avicii Tribute Concert for Mental Health Awareness, which takes place today in Avicii's home town of Stockholm, Sweden. The concert will host performances from over 25 of his previous vocal collaborators, including names like Aloe Blacc, Adam Lambert, Dan Tyminski, Rita Ora and some additional surprise guest appearances. A 34-piece band will provide all of the original Avicii music for a two-hour headline set. 
MishCatt will also appear Tribute Concert, performing the new version of "Fades Away," which was crafted and recorded specifically for the concert, and released today, December 5th, 2019, when the tribute takes place. All net profits from the concert will benefit organizations that address mental health needs and support suicide prevention for young people.
The Tribute Concert Version of "Fades Away" featuring MishCatt is out now and can be found here. The Avicii Tribute Concert for Mental Health Awareness will be live streamed from 9:00 PM to 11:15 PM CET, and can be watched here.
FOLLOW AVICII:
Facebook: facebook.com/avicii
Twitter: twitter.com/Avicii
Instagram: instagram.com/avicii
SoundCloud: soundcloud.com/aviciiofficial