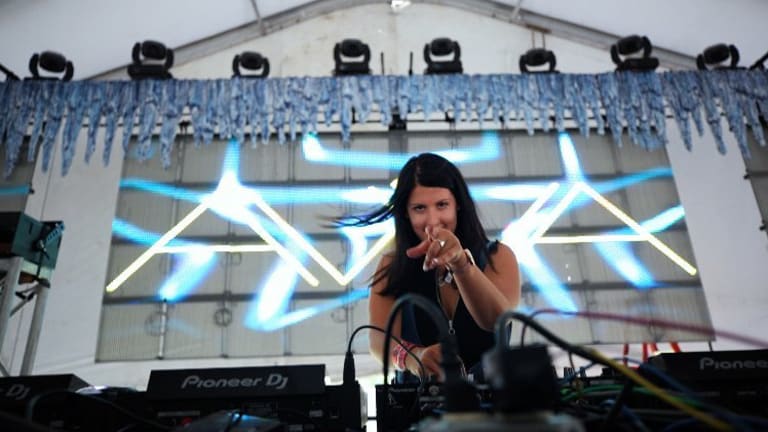 AViVA's "Bloody Sunday" Is The Perfect Way To Start Spooky Season [Listen]
Dark sounds are accompanied by vocals from Treyy G to form AViVA's newest track.
As the leaves begin to fall and the air cools, it's easy to get excited for the fall season and of course Halloween.  AViVA took full advantage of this and summoned her spooky vibes when creating her newest release. Teased for almost a month, "Bloody Sunday" featuring Treyy G does an amazing job of showcasing her signature sounds that she's perfected over the years while also adding in some classic Halloween sounds like creaking doors and freaky breathing.
DJ and dark house producer Aviva Sonenrich hails from Denver, Colorado.  This badass lady has spent years harnessing her signature dirty sounds and pushing the boundaries of house music.  Just last year, she won the title of "Best Producer" by Electronic Colorado, up against artists such as SoDown and Said The Sky.  Since then, she's performed alongside the likes of Slushii and Borgous as well as at festivals including Global Dance Festival in Colorado.
2018 has been a year of many releases for AViVA. Tracks such as "LIQOUR GOOD" also featuring Treyy G and one of my personal favorites, "TRILOGY", have gained some of the most attention on SoundCloud with over twenty-four thousand streams each since their release. In fact, her tracks have even made it on a few Spotify playlists including Fresh Electronic and New Music Friday.
Her newest release, "Bloody Sunday" is a four-minute long track that begins with dark, dirty synths and percussion as a haunting melody is gradually added into the background.  The lyrics "bloody, bloody Sunday" are repeated before the song drops into the instrumental chorus.  Gritty synths warp in and out of shape as church bells ring in the background.  Soon after, an evil laugh, a creaking door, and breathing can be heard.  Listen to the entire track with the volume all the way up...I can almost guarantee that you'll get goosebumps.
Aside from Spotify, this track is also available to stream and download (for free!) on AViVA's new VIP SoundCloud account.  This month, AViVA shows no signs of slowing down.  On the 26th, she will be releasing her collaboration with BIJOU and on Halloween, she's playing with Monki, Pruitt, and Fisher in Denver, Colorado.  Can you imagine hearing "Bloody Sunday" live...on Halloween?!  Get your tickets here!
To keep up with AViVA, follow her on Facebook, Twitter, and Instagram.  She is definitely not a producer to be slept on!