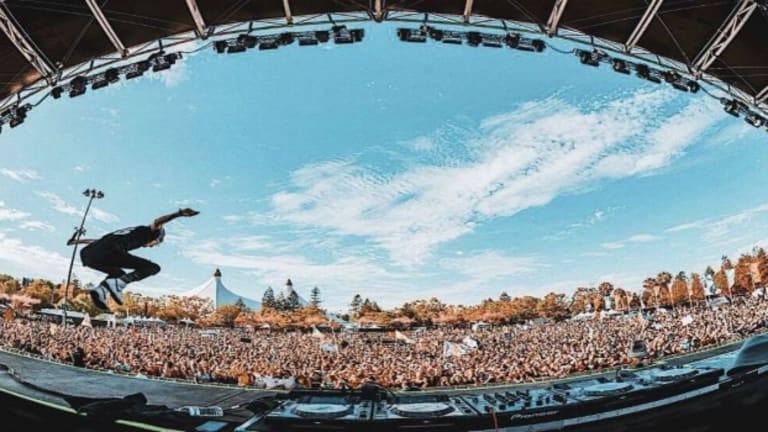 GET YOUR HEADBANG ON WITH NEW MUSIC FROM DATSIK, JAUZ, GHASTLY, HEROBUST & EKALI
Calling all bass heads!
It's a great day for bassheads.
In fact, it's one of the most exciting Fridays in bass music releases. Often, artists will release songs on Friday. It's a good day to put out new music for them, and a wonderful way for fans to kick off the weekend. With brand new music from Datisk, Jauz, Ghastly, Ekali and Herobust - there are a lot of reasons to get your headbang on today.
Monster - Datsik & 1000volts
Datsik has been in the dubstep scene for a long, long time. Over the years, he's gained a reputation as one of the leading producers in dubstep, and rightly so. He always delivers fresh, exciting music, branching out into new genres while also staying true to his sound.
This song with 1000volts - a duo comprised of Redman and Jayceeoh - is signature Datsik. With a haunting opening and fiery bars from Redman, the song builds into a drop that's tightly structured and explosive. That sound is classic Datsik, something fans are sure to love.
First Person Shooter - Herobust
Herobust has been venturing out of trap territory into dubstep recently, first the riddim anthem "Giant Squiddim" and now "First Person Shooter".
The track is full of retro video game sounds, a delightful throwback, up until the drop that is. While the drop does have hints of video game sounds in it, the atmosphere swaps nostalgia for high energy and dubstep heat. 
Herobust even released a whimsical short music video for the song, which pumps up the nostalgia even more, as it's chock full of vintage video game sampling!
As for the story behind the track, Herobust mentioned:
"A few months ago I was in a barcade in Orlando when I got super inspired. All the retro video game sounds were awesome! I set out to make a song that captured the nostalgia of old computer sounds as well as the indulgence of modern ones. The resulting juxtaposition is playful, but heavy af - First Person Shooter"
Alpha - Jauz
Jauz has been returning to his bass house roots, and he's been pretty vocal about how excited he is to do so. 
The last of the four tracks in his latest EP, Alpha has been a staple in his set for quite a while now. And, fans have eagerly been awaiting the track's official release.
It's been well worth the wait. A long, emphatic intro leads into a clean, powerful drop with elements of electro and signature Jauz sounds. The second one has a dubstep flair to it, adding to the versatility of the track. This one's going to be on repeat for a while.
Geisha - Ghastly
Another bass house banger from the ghost with the most!
With a haunting melody and an oscillating beat, the song begins with an intoxicated vibe to it. Buzzing basslines and classic Ghastly sounds mark the drop, which is dark and energetic.
Babylon ft. Denzel Curry - Ekali
This is Ekali's first track after signing to Skrillex's OWSLA record label, and it's amazing.
Having remixed Denzel Curry's "Threatz" before, with equally outstanding results, it's great to see the two actually collaborating now!
The track has a lot to offer. Ekali's production is fine tuned, incorporating elements from a lot of genres, seamlessly switching between a dreamy soundscape to one with intense ferocity. And, as always, Denzel Curry kills it on the vocals, adding his raw energy to the song.
Ekali had a lot to say about the track too:
"My objective with Babylon was to create a world where Rap and Electronic coexisted without tipping the scales too far in either direction. I was hyped on the idea of producing an entire song AROUND Denzel's story instead of having him tell his story around my beat, so I ended up producing 99% of the song after Zel had already recorded his parts. It's an approach to rap music that I'd never seen done before, so I wanted to know what that sounded like. Working in the room with Denzel was fast... he's a real rapper. Most of the time we spent kicking it just playing shit back and forth. He wrote and recorded his parts for Babylon in minutes."
Happy Friday everyone! Start your weekend off with some fresh wubs.