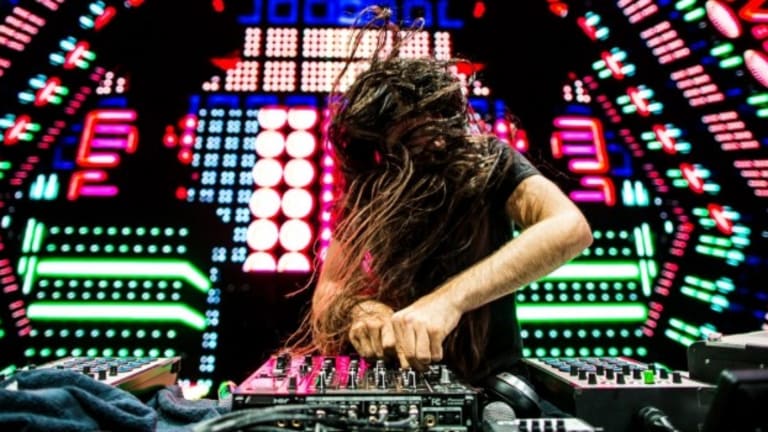 Bassnectar Drops Tempo Of Dreams Mixtape as Promised
The Tempo Of Dreams Mixtape includes Bassnectar edits and remixes galore.
Last weekend was a tumultuous one for Bassnectar and his Colorado fans, but suffice it to say they closed things out on a high note. The Los Angeles DJ/producer was able to relocate the third and final day of his Freestyle Sessions Summer Gathering show, and now he's treated bass heads the world over to the Tempo Of Dreams Mixtape.
The release commemorates the 20-year anniversary of Dreamtempo, a mixtape Bassnectar (real name Lorin Ashton) made for his girlfriend in 1999. The new endeavor includes Ashton's remixes and edits of songs by the likes of Buku, Purity Ring and Styn.
Before Ashton became a household name in the world of modern bass music, his sound manifested in a variety of different styles. In addition to putting out breakbeat on mixtapes like Freakbeat for the Beat Freaks in 2001, he released trip-hop efforts like 2006's Mesmerizing the Ultra.
Bassnectar will resume touring with a performance at Municipal Auditorium in Nashville, Tennessee on July 13th. Find the tracklist for the Tempo Of Dreams Mixtape below.
Decap - Yeah (Bassnectar Edit)
Buku - Front To Back (Bassnectar Remix)
Bassnectar - Undercover
OAKK - Growing ft. Rider Shafique (Bassnectar Remix)
Styn - Neesitto Tu Amor ft. Aztek (Bassnectar Edit)
Sykes & Kilobite - Frozen Dreams (Bassnectar Edit)
DotCrawl - Alternative Facts (Bassnectar Remix)
Purity Ring - Flood on the Floor (Bassnectar Remix)
20syl - Kodama (Bassnectar Remix)
Hucci - Hitta (VIP)
Sounds From The Ground - Triangle
Legion Of Green Men - Synaptic Response (Faculties of Cognition)
Shantel - Unending
FOLLOW BASSNECTAR:
Facebook: facebook.com/Bassnectar
Twitter: twitter.com/Bassnectar
Instagram: instagram.com/Bassnectar
SoundCloud: soundcloud.com/bassnectar