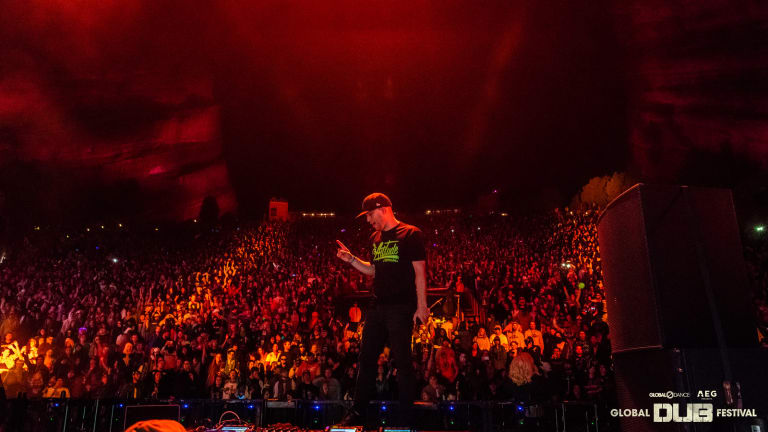 Bear Grillz Bares His Inner Demons on Debut Album with Dim Mak
Bear Grillz collaborated with Kabaka Pyramid, Sullivan King and Dirty Heads on deeply personal debut album with Steve Aoki's Dim Mak Records.
This past weekend at Red Rocks Amphitheatre in Morrison, Colorado marked the 7th Anniversary of Global Dub Festival, one of the first, and certainly one of the best all bass music-focused music events in the world. This years key acts included Said The Sky, Adventure Club, and Bear Grillz (real name Robert "RJ" James). In coordination with this massive, dream-come-true career milestone, RJ also announced the release his debut album Demons with Steve Aoki's Dim Mak Records.
A bass-heavy, 12-track odyssey with its roots in dubstep and infused with elements of future bass, bass house, hip-hop, and reggae, Demons offers listeners a powerful glance into the mind of a producer striving to break down musical barriers while simultaneously facing his own personal struggles. A strikingly brave and revealing body of work, Demons features noteworthy collaborations with artists such as Jared Watson and David Foral from Dirty Heads, as well as Sullivan King, Kabaka Pyramid, RUNN, Bok Nero, Micah Martin and more. 
When starting to work on Demons, Bear Grillz was deeply moved and inspired by the recent increase in awareness surrounding the ongoing global suicide epidemic, especially when examined through the lens of him learning to persevere in the face of his own mental health struggles. In a recent interview with Westword, RJ explained:
"...It was time for us as a society to really start talking about mental health and putting it out there to make people aware. So I wanted to sort of use my experience with these inner demons, which is why I came up with the title Demons, to show people that we're all facing this no matter who you are as a person. Everybody has problems, and unless we talk about these problems openly and actively, I don't feel that we're going to be able to help each other."
Stream or Download "Demons" today.
FOLLOW BEAR GRILLZ:
Facebook: facebook.com/itsbeargrillz
Instagram: instagram.com/itsbeargrillz
Twitter: twitter.com/itsbeargrillz
Soundcloud: soundcloud.com/itsbeargrillz
YouTube: youtube.com/user/itsbeargrillz
FOLLOW DIM MAK:
Facebook: facebook.com/dimmak
Twitter: twitter.com/dimmak
Instagram: instagram.com/dimmak
SoundCloud: soundcloud.com/dimmakrecords