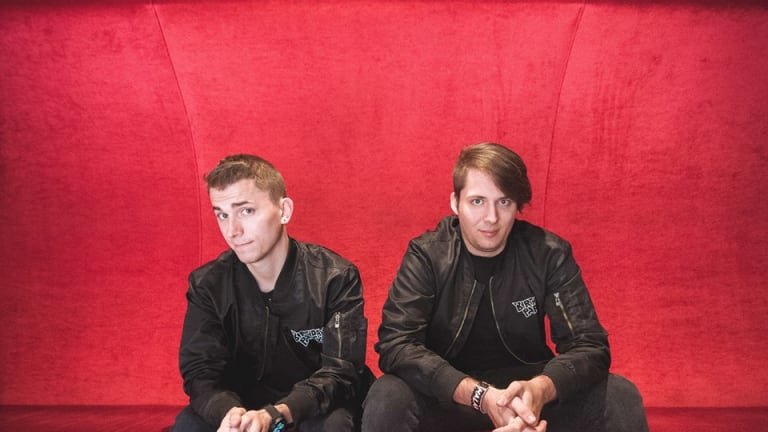 Genre-Bending Duo Birthdayy Partyy Break the Mold with "Rewind"
"Rewind" sees Birthdayy Partyy do what they do best.
Be it bass house, breakbeat, electro or dubstep, Birthdayy Partyy's eclectic signature sound seldom disappoints. The Chicago duo (comprised of brothers Bryan and Jon Gorecki) have delivered yet another amalgam of electronic music styles with "Rewind," which they've self-released for free download.
The song tagged as "House" on its SoundCloud player - an appropriate label considering that its bass lines are smoother than those of most other Birthdayy Partyy tracks. A Jamaican sound system-inspired vocal refrain rings out over the top, perhaps a subtle nod to DJ culture's distant roots.
It's a busy week indeed for Birthdayy Partyy. Today they will participate in a live interview with Los Angeles DJ/producer Wenzday that will be streamed via their Instagram account at 5:00 PM EST. Afterwards they will premiere the video for their guest mix on their Facebook page.
Birthdayy Partyy's next performance is scheduled for November 30th at Peabody's Nightclub in Virginia Beach, Virginia. In the meantime, stream or download "Rewind" across platforms here.
H/T: EDM Sauce
Follow Birthdayy Partyy:
Facebook: https://www.facebook.com/pg/birthdayypartyymusic/
Twitter: https://twitter.com/BirthdayyPartyy
Instagram: https://www.instagram.com/birthdayypartyymusic/
SoundCloud: https://soundcloud.com/birthdayypartyy/