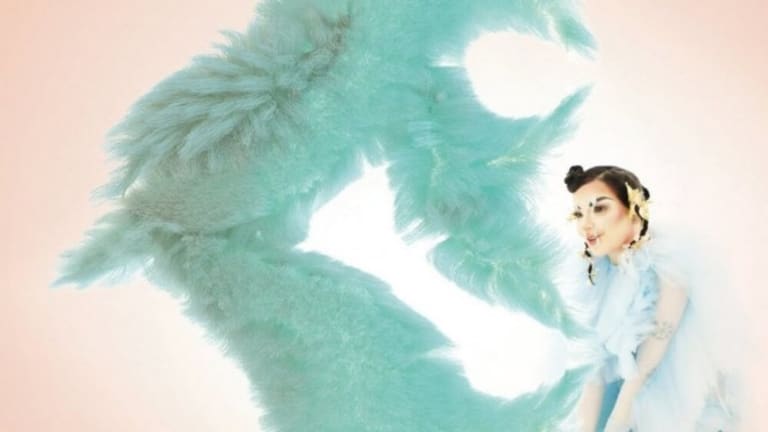 Björk Puts Us All in a Trance in New Video for "Blissing Me" [WATCH]
Did someone say goose bumps?
Hailing from Iceland, Björk is a singer, songwriter, producer, and DJ all in one. Since her first studio album release in 1977, she has been producing hit after hit. Some of her most popular tracks include "Army of Me", "Joga", and "Human Behaviour". Over the years, she has become known for her unique sounds, entrancing vocals, and more. Early this week, she released her second single, "Blissing Me" from her upcoming album, Utopia. This release followed that of the debut single off of the album, "the gate".
Utopia will be Björk's ninth studio release to date, and definitely has a lot to follow after. For the first minute of this song, Björk's enchanting vocals sing about the excitement and innocence of new love as surprise harmonies join her once in a while. Harps and other soft, synth-like melodies also join her increasing vocals along with subtle percussion as the song picks up pace. About four minutes in, only her voice and the sounds of a harp remain, and the song closes with her singing "Did I just fall in love with him?"
Just today, Björk released a music video to accompany "Blissing Me". The duration of this video shows her wearing a light blue, tule outfit with an intricate hair style and face paint. As she dances around on her bright yellow platform shoes, she caresses herself and reaches around a barren white background. The video is over five minutes long, but we couldn't look away. This video was taken in only one-take, which we give her major props for.

Utopia is scheduled to be released on November 24th, which is only a little over a week away! Check out the full track list below, and head over to Björk's website for more details as well as links to her social media accounts.
1 'Arisen My Senses'
2 'Blissing Me'
3 'The Gate'
4 'Utopia'
5 'Body Memory'
6 'Features Creatures'
7 'Courtship'
8 'Loss'
9 'Sue Me'
10 'Tabula Rasa'
11 'Claimstaker'
12 'Paradisa'
13 'Saint'
14 'Future Forever'

H/T: FACT Mag