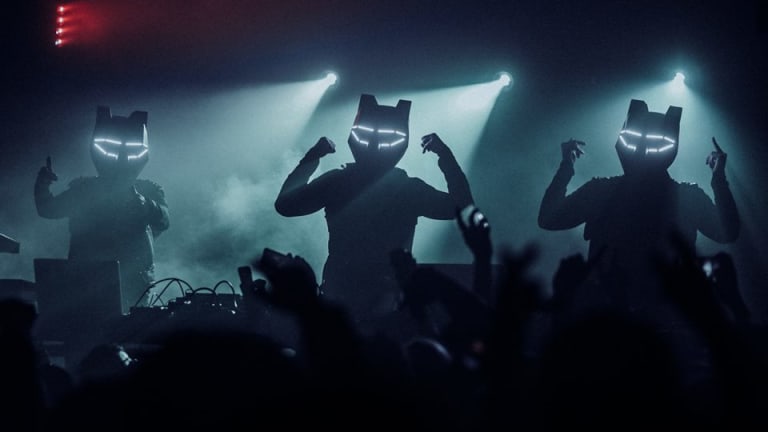 Black Tiger Sex Machine Unveils "Artificial Intelligence" as the Thirst for Upcoming Album Intensifies
This new track is heavy but bright at the same time.
Black Tiger Sex Machine is made up of three electronic producers hailing from Montreal, Canada.  Julian Maranda, Marc Chagnon, and Patrick Barry are the men behind the masks who have escalated to stardom via their heavy, post-apocalyptic, rock-influenced sound.  These tigers are also known for their insane, energetic live sets that have never fail to have the entire audience chanting "BTSM! BTSM! BTSM!".
This group has also founded their own independent label called Kannibalen Records, which has signed names including Dabin, Kai Wachi, Apashe, and Snails.  These sound pioneers have brought you some of your favorite tracks such as "Hell Motel", "Lions" with YOOKiE, and "Madness" with Sullivan King off of their upcoming album, New Worlds.
This week, the trio is debuting two new singles in preparation of their newest album which will be released on Friday.  On Wednesday, "Artificial Intelligence" was introduced via Youtube, SoundCloud, and iTunes.  This song starts out slow with trance-like synths before dropping into a dark and dirty chorus.  This song is a little slower paced than a majority of their songs, but it still does a stellar job of showcasing their signature sound.  For the second drop,  lighter violin tones accompany the futuristic tone which gives it a brighter feel.  Don't be fooled though, this song is still perfect for headbanging.
If you want to see Black Tiger Sex Machine live, their brand new Ceremony Tour kicks off this Friday along with the release of their new album.  This tour will stop in more than 20 cities in North America where the tigers will perform with a new custom stage design.  This stage will give them complete control of the lights both on and around the stage, as well as their helmets, meaning that the lights for the entire show are not pre-programmed.
Artists from Kannibalen Records will be the support for the entire tour: Apashe, Kai Wachi, Sullivan King, and Lektrique.  Check out dates and cities for the Ceremony Tour below, and click here for tickets!
March 2nd – Ottawa, ON – Barrymore's
March 3rd – Waterloo, ON – Maxwell's
March 7th – Des Moines, IA – Wooly's
March 8th – Indianapolis, IN – Deluxe
March 9th – Grand Rapids, MI – The Intersection
March 10th – Detroit, MI – Majestic Theatre
March 14th – Columbus, OH – Skully's
March 15th – St. Louis, MO – 2720 Cherokee
March 21st – Pittsburgh, PA – Rex Theater
March 22nd – Burlington, VT – Higher Ground
March 23rd – Boston, MA – Royale
March 24th – Syracuse, NY – Westcott Theater
March 28th – Athens, GA – Georgia Theatre
March 29th – Knoxville, TN – International
March 30th – Birmingham, AL – Zydeco
March 31st – New Orleans, LA – Republic
April 5th – Austin, TX – Empire Garage
April 6th – Dallas, TX – Stereo Live
April 7th – Houston, TX – Sterero Live
April 8th – Sun Peaks, BC – Snowbombing
April 10th – Fayetteville, AR – George's
April 11th – Tulsa, OK – Cain's Ballroom
April 12th – Lawrence, KS – Granada Theater
April 14th – Salt Lake City, UT – The Complex