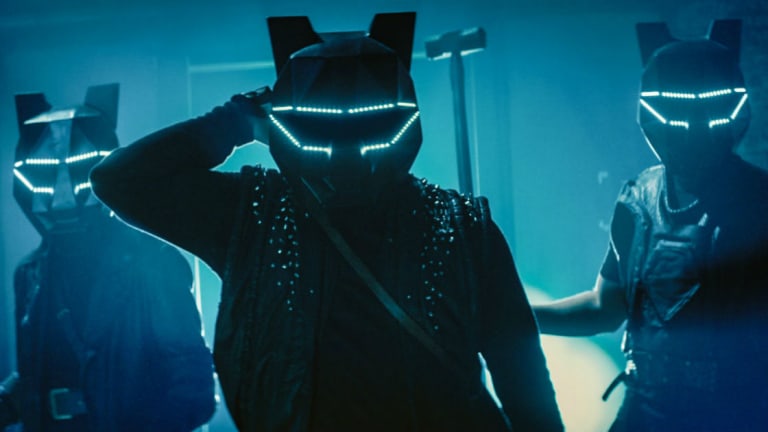 Black Tiger Sex Machine and YOOKiE Team Up for a Spooky Collab on "Lions" [LISTEN]
If you haven't heard this new collab, we promise you're missing out!
On Tuesday of this week, Black Tiger Sex Machine and YOOKiE dropped their long awaited single together, "Lions". Released under the label Kannibalen Records, this month of September was the perfect time for these two to team up on this dark, bass-heavy track.
Black Tiger Sex Machine is an electronic music trio based out of Montreal, Canada. They operate under their own record label titled Kannibalen Records. This label has also signed some other artists with similar styles of music such as Apashe, Kai Wachi, Dabin, and more. A few of their most well-known tracks include "Religion" feat. LeKtriQue, "Face Down" feat. Panther, and "The Grave" with Apashe, feat. Gabrielle Hook.
These three tigers have developed their signature sound by combining dark, intense electronic rhythms with heavy bass. The eerie sounds of their tracks can give you the chills, but as soon as the beat drops it's a headbanger's heaven. During their shows, they integrate both a DJ set and a live set. Furthermore, they always wear their custom-made trademark tiger helmets with lights controlled by them during their set to give their audience a completely unique show. They've also conquered multiple festivals such as Imagine, Paradiso, and Electric Forest.
YOOKiE is made up of two brothers who hail from Islip, New York. These up-and-comers have had an explosive past year, and are continuing to gain recognition in the bass community. They've already worked with some of the biggest names in the game for various tracks including "After All" with Slander feat. Jinzo, and remixes including their remix of NGHTMRE and Dillon Francis' "Need You".
When these two groups combined their forces this year, "Lion" resulted as one of the hardest hitting songs of the year. The essence of both artists can be heard throughout the song, but a truly dark, transformative, thunderous track was produced. The song starts out with a drum rhythm and mysterious vocals, similar to those in BTSM's track "Religion". As various synths are gradually added in, the beat drops to a moment of silence before the gritty, intense chorus is revealed. Adding to Kannibalen Records' impressive resume, this is not a collab to miss!
To keep up with both Black Tiger Sex Machine and YOOKiE and never miss a beat, follow them on their socials below.
Black Tiger Sex Machine: Facebook, Twitter,Instagram, SoundCloud
YOOKiE: Facebook, Twitter, Instagram, SoundCloud