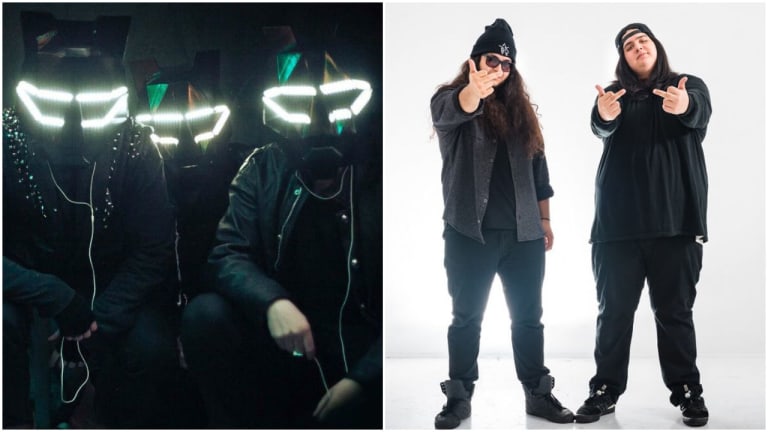 Black Tiger Sex Machine Taps YOOKiE for New Collab, "Spiders"
"Spiders" is the third collaboration between BTSM and YOOKiE.
Black Tiger Sex Machine (comprised of Patrick Barry, Marc-André Chagnon, and Julien Maranda) and YOOKiE (real names Anthony and Christopher Alfaro) have teamed up for their third collaboration, "Spiders" out via BTSM's Kannibalen Records.
Continuing their hot streak of hard-hitting collaborations, "Spiders" is yet another bass-heavy weapon both groups have under their belts. "Spiders" begins by enthralling fans with a haunting vocal and triumphant synths. The victorious feeling brought on by the intro is short lived, however, as threatening drums lead into a devastating drop filled with synths akin to both BTSM and YOOKiE's unique sound.
Barry, Chagnon, and Maranda are preparing to embark on their highly anticipated Futuristic Thriller tour, whose shows they've described as a "movie experience." Last year was a big one for the Canadian trio, as they released their debut album New Worlds. While this year has only seen a handful of release from BTSM, including "Everything" with TMRRW and Micah Martin and their two-track EP Download The Future, they certainly have plenty in store in the coming months.
The Alfaro brothers have seen what could be considered their biggest year to date, as they've had the opportunity to play at two premiere bass music festivals: Bass Canyon and Lost Lands, with their performance at the former being alongside bass music legend Excision. While they've only released a handful of singles this year, including both "Apocalypse" with Nitti Gritti and "Wraith" with Hekler, the duo are lined up for a spectacular 2020.
FOLLOW BLACK TIGER SEX MACHINE:
Website: blacktigersexmachine.com
Facebook: facebook.com/official.btsm
Instagram: instagram.com/officialbtsm
Twitter: twitter.com/officialBTSM
Soundcloud: soundcloud.com/blacktigersexmachine
FOLLOW YOOKIE:
Facebook: facebook.com/yookiemusic
Instagram: instagram.com/yookiemusic
Twitter: twitter.com/yookiemusic
SoundCloud: soundcloud.com/yookiemusic