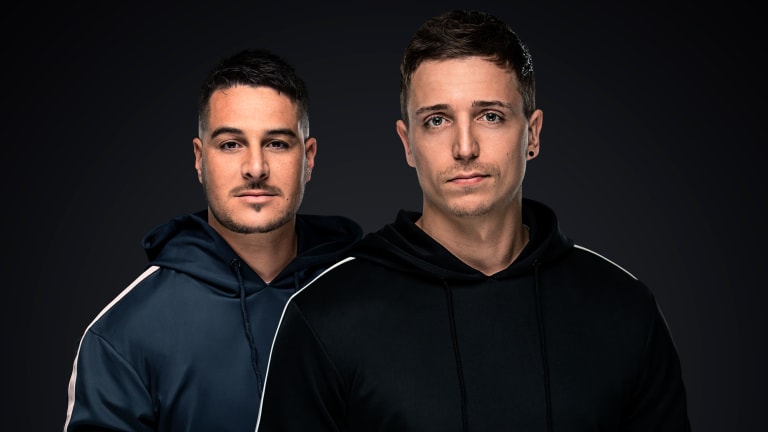 Blasterjaxx Unveil Debut Album, Perspective, on Spinnin' Records
After two years of intense work, the 23-track album is complete.
Known for their strong, energetic sound and mission to produce music that "makes you feel alive," Dutch duo Blasterjaxx (real names Thom Jongkind and Idir Makhla) have finally debuted their highly anticipated debut album out now on Spinnin' Record, as well as their own imprint Maxximize Records.
The 23-track effort, clocking in at a little over an hour's worth of Blasterjaxx originals, explores the duo's experimental side and passion for showcasing a variety of moods. Perspective opens with a dramatic, cinematic masterpiece. "Welcome" is a tension-building, vivid soundscape perfectly suited for the listening experience ahead. As the first track fades away, listeners are met with the second track, "Other Side" featuring Drew Ryn, which blends in seamlessly with the first. Drew Ryn, who has climbed her way to the top of iTunes charts multiple times, is the first of many notable singers and songwriters included on the album. 
Perspective is packed with addictive melodies, enormous builds, genuine lyrics, and main stage-worthy beats. It was over two years in the making, and Jongkind spoke on how the team approached the project differently:
"We mostly finish a complete track in just a matter of a couple of days. This time we set up writing camps in which we literally spent weeks in vacation parks isolating ourselves. We just took a guitar, microphone, and a laptop and started from scratch. We invited singer/songwriters and just made the best of it. Every production has had a lot of work and eye for details because every track had a different starting point. One track was more tech whilst another would be more indie-dance or big room. In the end, all tracks can be related back to our own sound quite a bit."
The album continues on to feature sultry vocals from Josie, as well as Envy Monroe who boasts three separate featues on the effort. Perspective is successful in proving the duo's claim "Bigroom Never Dies." Their signature sound shines through - and after seven years of dedicating themselves to dance music, it comes as no surprise the act's passion has taken them across high-profile stages such as Tomorrowland, Ultra Music Festival, and EDC Las Vegas. 
Blasterjaxx is currently on tour, with their next performance on July 26th in Boom, Belgium for Tomorrowland. The duo have 16 tour stops until the end of August. For more information, visit here.
Stream or download Blasterjaxx's album Perspective, out now on Spinnin' Records.

FOLLOW BLASTERJAXX:
Facebook: facebook.com/BlasterjaxxOfficial
Twitter: twitter.com/Blasterjaxx
Instagram: instagram.com/Blasterjaxx
SoundCloud: soundcloud.com/blasterjaxx
FOLLOW SPINNIN' RECORDS:
Facebook: facebook.com/SpinninRecords
Twitter: twitter.com/SpinninRecords
Instagram: instagram.com/SpinninRecords
SoundCloud: soundcloud.com/SpinninRecords