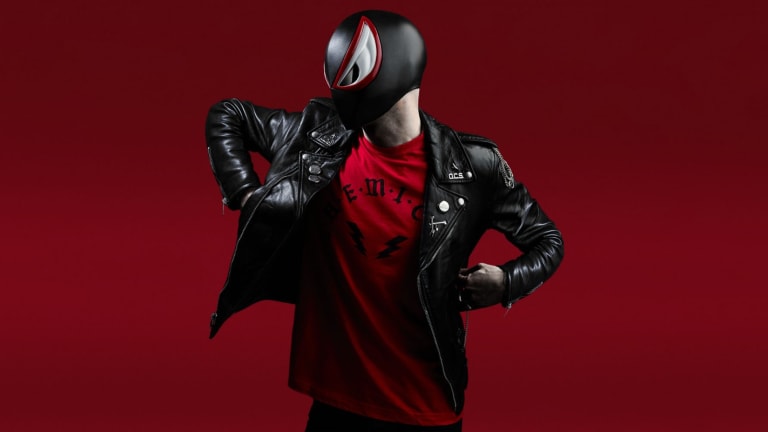 The Bloody Beetroots and Steve Aoki Celebrate 10th Anniversary of "Warp"
Handwritten commentary by Steve Aoki and Sir Bob Cornelius Rifo aka The Bloody Beetroots to accompany the 10th Anniversary of "Warp" limited-edition vinyl
In 2009, The Bloody Beetroots and Steve Aoki permanently altered the course of dance music with the release of the now-iconic "Warp 1.9." Unlike anything the electronic music community had heard up until that point, "Warp" assaulted fans with three minutes and twenty-four seconds of raw, unparalleled punk rock energy. The perfect hybrid of rock and dance music, the pair ushered in the next wave of youth culture, marking a pivotal shift in the world of music production. 
Aoki's fierce screams layered over the heavily distorted and brutally compressed instrumentation drove "Warp" into hyperdrive, where it would ultimately become a defining song of the late 2000s electro era. To honor this seminal release, the official 10 Year Anniversary: 2009-2019 package celebrates the legendary legacy of "Warp," and features the "1.9" edition of the track, alongside versions "1977," "7.7," as well as the 2016 reboot "2.0."
In celebration of the anniversary, Dim Mak has printed an extremely limited run (2000 unit) deluxe vinyl package. Each record is pressed on double 12-inch, 180-gram, heavyweight, clear vinyl (45RPM) and bundled inside fully printed sleeves. The embossed, black metallic gatefold houses personal, handwritten commentary from both Sir Bob Cornelius Rifo, founding member of The Bloody Beetroots, as well as Steve Aoki, each providing their personal insight into the creation and history of "Warp."
Over the past decade, "Warp" has seen massive airtime on main stages around the world. Diplo, Skrillex, Afrojack, Laidback Luke, Benny Benassi, David Guetta and Zedd have all included versions of the song in their sets, and many highly acclaimed DJs such as Carnage, Tisoki and Dirtyphonics have reworked the single into their own unique and festival-ready versions. 
In a recent Thump/Noisey article highlighting "The 101 Best EDM Songs of All Time," "Warp 1.9" came in at #19, along with the following passage:
"The turn of the 2010s represented a peak both for EDM as a commercial phenomenon and for the more aggro-leaning side of Steve Aoki's Dim Mak label. 'Warp 1.9,' perhaps the definitive track from that particularly fruitful period of hook-laden abrasiveness, saw Aoki teaming with the masked Italians The Bloody Beetroots. Compared with standard EDM excess, the Beetroots offered something a little more grayscale, a little more raw and gothic. When paired with Aoki's grinning energy, the track stands out like a dose of digital acid within a sea of sweetness." 
Buy & Stream Digital: http://ffm.to/warp-10year
Buy Vinyl: http://ffm.to/warp-vinyl
FOLLOW THE BLOODY BEETROOTS:
Website: thebloodybeetrootsofficial.com
Facebook: facebook.com/thebloodybeetroots
Twitter: twitter.com/BloodyBeetroots
Instagram: instagram.com/thebloodybeetrootsofficial
FOLLOW STEVE AOKI:
Facebook: facebook.com/steveaoki/
Twitter: twitter.com/steveaoki
Instagram: instagram.com/steveaoki/
SoundCloud: soundcloud.com/steveaoki
FOLLOW DIM MAK:
Facebook: facebook.com/dimmak
Twitter: twitter.com/dimmak
Instagram: instagram.com/dimmak
SoundCloud: soundcloud.com/dimmakrecords