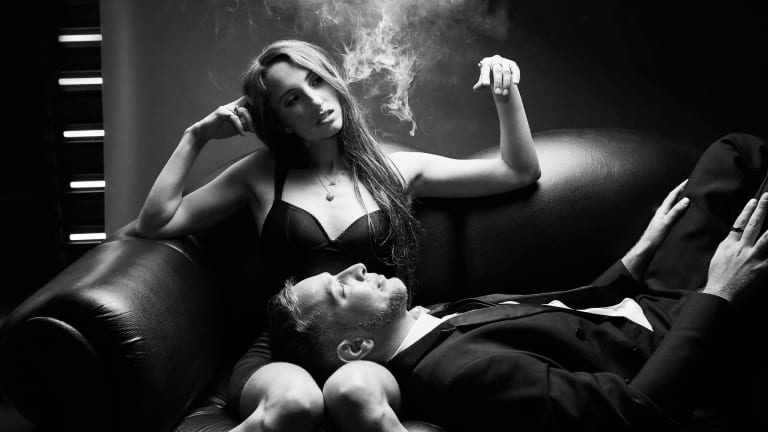 BONNIE X CLYDE Release Sultry Vocal Bass Single, "Curse"
EDM's most alluring duo dropped the ultimate sultry bass track in the midst of their Bad Behavior 2019 Tour.
Currently in the middle of their Bad Behavior 2019 Tour, electronic duo BONNIE X CLYDE have drawn inspiration from their hip-hop and rock music background for their new single, "Curse." It's out now on Ultra Records.
Packed with compelling bass lines, moody guitar riffs, and BONNIE's signature seductive vocals, "Curse" tells the mysterious tale of "falling into someone's addictive pull." The dripping-in-emotion tune weaves alluring and hypnotizing lyrics with a drop that packs just enough punch to be perfect for the bedroom or the dance floor. BONNIE X CLYDE delineate the duality of this sound as "vocal bass." 
"Inspiration for this song sonically came from our background of loving hip-hop, rock, and electronic music," BONNIE X CLYDE said in a joint statement. "When we originally wrote the lyrics, we felt the rhythm and vibe of the vocal was quick, to the point, and drove you like a rap song. The song is about how you can be under the spell of someone and feel like a victim to their energy. It's dark but uplifting, and intense but sultry."
"Curse" comes on the heel's of their September Ultra Records release, "Bad Behavior," where they unveiled their revamped mysterious style, as well as announced their 2019 tour. The duo currently have eight stops left on the tour, with more to be announced soon. For all ticketing and tour information, visit here. 
Stream or download BONNIE X CLYDE's "Curse," out now on Ultra Records.
FOLLOW BONNIE X CLYDE:
Facebook: facebook.com/bonniexclydeofficial
Instagram: instagram.com/bonniexclydedj
Twitter: twitter.com/BONNIEXCLYDE
SoundCloud: soundcloud.com/bonniexclydeofficial
FOLLOW ULTRA MUSIC:
Website: ultramusic.com
Facebook: facebook.com/ultramusic
Instagram: instagram.com/ultramusicofficial
Twitter: twitter.com/ultrarecords
SoundCloud: soundcloud.com/ultrarecords