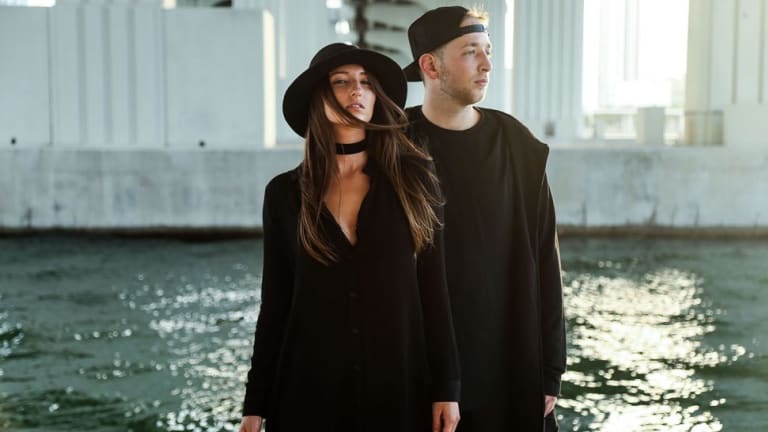 BONNIE X CLYDE Release Official Music Video for Ultra Music Debut "The Good Life"
BONNE X CLYDE embrace a catchy, pop-infused, nostalgic aesthetic in debut Ultra Music release "The Good Life" and it's accompanying music video
Bonnie X Clyde (real names Daniel Litman and Paige Lopynski) are an American electronic dance duo that formed in 2015. The group has a highly unique sound focused on the fusion between electropop, synthpop, house and trap music, an eclectic mix sure to satisfy a wide variety of dance music lovers.
After releasing their hit single "Rise Above" in 2016, they followed it up with their song "Bass Jam" which went #1 on Sirius XM. As of 2018, after many festivals, shows, and tour appearances later, BONNIE X CLYDE have signed their debut single with Ultra Music, a release that is aptly titled "The Good Life." Reminding us to live our life to the fullest, "The Good Life" is a moving, emotion-laden track with a hard-hitting, groovy beat and a timeless, sentimental message.
"The Good Life" combines BONNIE X CLYDE's signature vocal bass style with Paige's smooth vocals to create a nostalgic atmosphere that we can't get enough of. If you've had the opportunity to see them perform, you've undoubtedly witnessed their infectious energy and unswerving dedication to creating the perfect party atmosphere.

The radio pop single "The Good Life" marks the next chapter of the BONNIE X CLYDE story, opening up their music to an even broader audience and embracing a more commercial direction for their sound. The official video for "The Good Life" is an excellent hybrid of personal expression and strategic artistry – it gives their fans the impression of a 'behind the scenes' look into the lives of BONNIE X CLYDE, while also fitting the creative direction and aesthetic of the song itself.

Make sure to check out the music video, and stream or download a copy of "The Good Life" today.
FOLLOW BONNIE X CLYDE:
Facebook: facebook.com/bonniexclydeofficial
Instagram: instagram.com/bonniexclydedj
Twitter: twitter.com/BONNIEXCLYDE
SoundCloud: soundcloud.com/bonniexclydeofficial
FOLLOW ULTRA MUSIC:
Website: ultramusic.com
Facebook: facebook.com/ultramusic
Instagram: instagram.com/ultramusicofficial
Twitter: twitter.com/ultrarecords
Soundcloud: soundcloud.com/ultrarecords