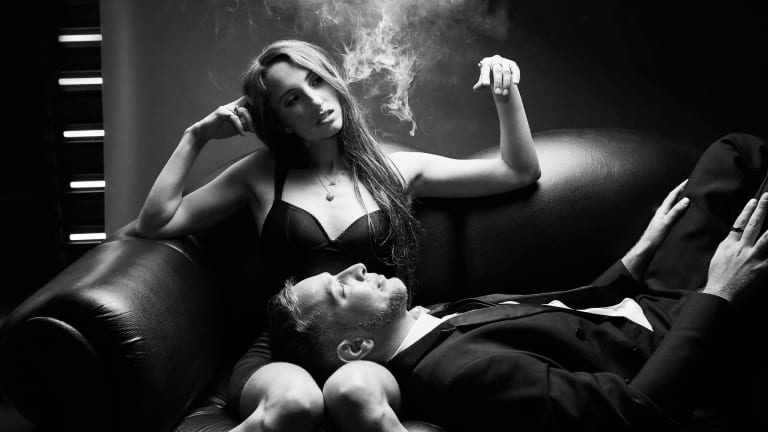 BONNIE X CLYDE Return with Breakup Bass Ballad, "Leave It All Behind"
The electronic duo have been on a high of releasing moody, distorted tunes since announcing their reimagined style in late September.
When electronic duo BONNIE X CLYDE debuted their revamped  femme fatale style in late September alongside the release of their single, "Bad Behavior," it was hard to anticipate what was yet to come for the rebellious act. Just over a month ago the two released their sultry single, "Curse," and now the duo is back again on Ultra Records to show off more of their reinvented, moody tone with their new vocal bass track, "Leave It All Behind." 
Similar to their last two singles, BONNIE's vocals take center stage leading to a sub-wrecking and truly addictive drop. Distorted vocal chops back the leading bass line, giving the tune a combination of equally chaotic and alluring energy.
2019 has proven a successful year for the two, the second half being dedicated to their new sound as well as their Bad Behavior Tour. The 22-date tour across North America gave fans the unexpected, with the duo's sets comprised entirely of their own music. Their fan base, which they lovingly dub "The Rosegang," has grown exponentially and is set to grow larger with new hits in the works for 2020. 
"Leave It All Behind" is available for streaming across all platforms. Listen to it here. 
FOLLOW BONNIE X CLYDE:
Facebook: facebook.com/bonniexclydeofficial
Instagram: instagram.com/bonniexclydedj
Twitter: twitter.com/BONNIEXCLYDE
SoundCloud: soundcloud.com/bonniexclydeofficial
FOLLOW ULTRA MUSIC:
Website: ultramusic.com
Facebook: facebook.com/ultramusic
Instagram: instagram.com/ultramusicofficial
Twitter: twitter.com/ultrarecords
SoundCloud: soundcloud.com/ultrarecords