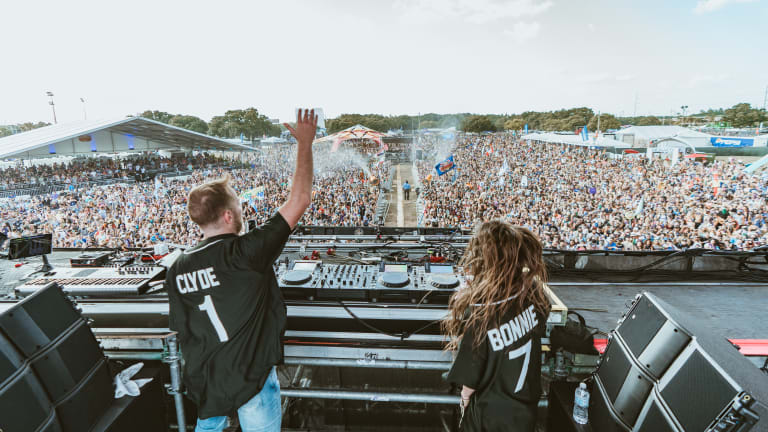 BONNIE X CLYDE have Us Feeling "So High" with Their Second Release on Ultra Records
Following up on their debut Ultra single "The Good Life," BONNIE X CLYDE have something special up their sleeves with sexy, future-tinged new single "So High."
With a level of energy and abandon akin their infamous namesakes, BONNIE X CLYDE (real names Daniel Litman and Paige Lopynski) have been grinding it out and releasing music at a fast and furious pace since the release of their first single, "The Ride," in 2015. Between then and now, they've put out over a dozen singles, as well as two EPs, and while they certainly haven't held up any banks, their recent EDC Las Vegas set at the circuitGROUNDS stage was as wild as a guns-blazing highway robbery.
With millions of streams under their belts and releases with industry-leading labels such as Insomniac Records and Ultra Music, BONNIE X CLYDE are well past the emerging artist phase and have become a highly sought-after staple on the dance music festival and touring circuit.
Their most recent release, "So High," is the natural successor to their radio-worthy Ultra debut "The Good Life," and showcases a softer, more melodic and instrumental side of the daring duo. It's clear that Paige and Daniel are working hard to expand their sound and make it appealing to a wider audience, and "So High" is a great step in that direction. A soft and emotional vocal hook is paired with a sentimental, future-bass inspired beat. The result is a track that is great as a singalong party anthem, but also perfectly at home as an easy-listening tune for a late-night summer drive.
There is a lot more excellent music ready for release and stashed away in the BONNIE X CLYDE hideaway, it's just a matter of time until we get to dig in and enjoy the spoils!
Stream or Download "So High" today!
FOLLOW BONNIE X CLYDE:
Facebook: facebook.com/bonniexclydeofficial
Instagram: instagram.com/bonniexclydedj
Twitter: twitter.com/BONNIEXCLYDE
SoundCloud: soundcloud.com/bonniexclydeofficial
FOLLOW ULTRA MUSIC:
Website: ultramusic.com
Facebook: facebook.com/ultramusic
Instagram: instagram.com/ultramusicofficial
Twitter: twitter.com/ultrarecords
Soundcloud: soundcloud.com/ultrarecords