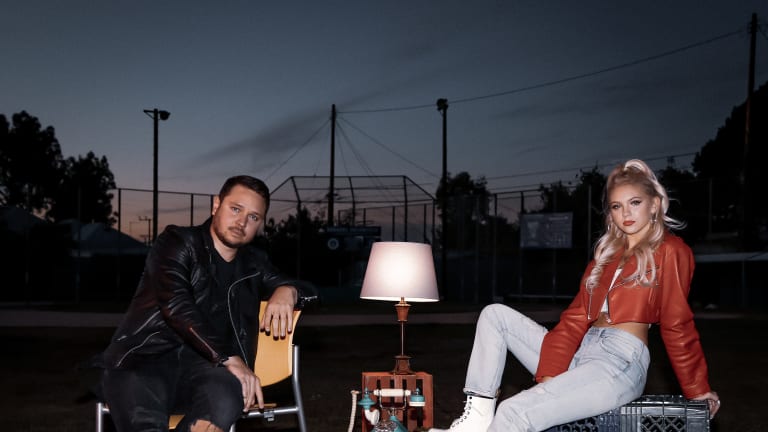 Borgeous and Jordyn Jones Team Up for Pop Dance Original "Leave"
Borgeous and Jordyn Jones have a catchy new hit on their hands.
Platinum-selling DJ/producer Borgeous knows what it takes to make a run up the charts, and his new track with Jordyn Jones may be his next to do so. Their new collaborative offering "Leave" is a festival-ready anthem boasting summertime-inspired melodies and a singalong chorus from Jones. 
While Borgeous (real name John Borger) achieved initial success with he and DVBBS' chart-topping big room track "Tsunami," he's been better known over the last couple years for crafting pop dance hits such as "Make Me Yours" and "Sweeter Without You." With "Leave," Borger demonstrates a continued commitment to this path. 
Coming from a similar backdrop in pop music, Jordyn Jones quickly became a logical choice for this release. The rising songstress has been opening up for mainstream talent such as Demi Lovato and DNCE. "Leave" also marks the first single of her forthcoming EP due out later this year.
Complementing the carefree tone of the song, "Leave" also received a music video that sees both artists taking over a high school for an evening. Check it out below and stream "Leave" here. 
FOLLOW BORGEOUS:
Facebook: https://www.facebook.com/borgeous
Twitter: https://twitter.com/borgeousmusic
Instagram: https://www.instagram.com/borgeousmusic
SoundCloud: https://soundcloud.com/borgeousmusic
FOLLOW JORDYN JONES:
Facebook: https://www.facebook.com/officialjordynjones
Twitter: https://twitter.com/JJjordynjones
Instagram: https://www.instagram.com/jordynjones
SoundCloud: https://soundcloud.com/jordynjonesmusic