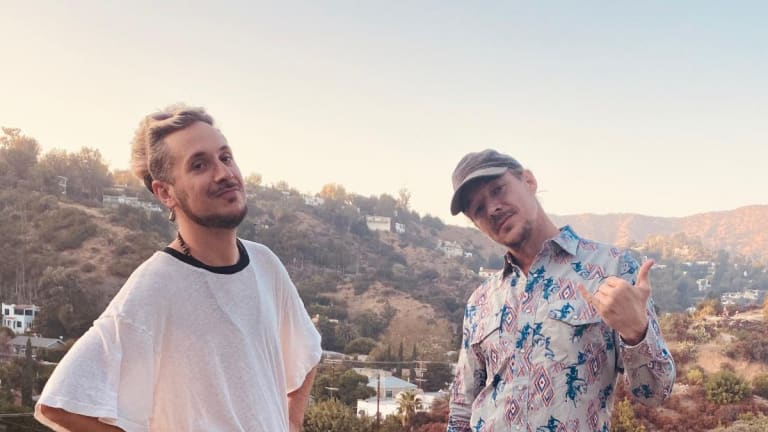 Born Dirty and Diplo Deliver House Tracks "Samba Sujo" and "Ouro"
The latest release off the the new Mad Decent imprint Higher Ground
Diplo, the founder of the new house imprint Higher Ground, is back with a new collaboration with French DJ/producer Born Dirty. The drop is a four for one featuring "Samba Sujo" and "Ouro" and their respective extended mixes. The former is the label head's first release on his new imprint. 
Both tracks are a funky fusion of Brazilian and house rhythms. The A-side, "Samba Sujo," is a rework the 2015 single by Alfred Del-Penho. The afro-house beat is one that will get any dance floor grooving.
 "For years I wanted to work on a new version of this absolute classic," Born Dirty (real name Mika Abadie) said of the collaboration. "Truly excited about what I did with Wes on this one and how it resonates at shows!" 
"Ouro," the B-side solo drop from Abadie, is a bright club-ready house track. It's layered with an infectious use of claves, drums and wind instrumentals. The vibrant beats make this the perfect addition to the already diverse collection championed by Higher Ground. 
Abadie entered the scene back in 2015 with the track "Don't Stop Get It" featuring Kid Sister. Since then he's garnered support from OWSLA, Dirtybird, Mad Decent, Fool's Gold Records, Insomniac Records and more. He went on to launch his own label, Way Way Records. 
Diplo (real name Thomas Wesley Pentz Jr.) debuted the Higher Ground imprint back in August of this year. It's named after his recent house-inspired EP and is is set to become a platform used to showcase both established and rising talent in the house music sector. According to Pentz, "The genre has always been incredibly important to me, and Higher Ground is our homage to the legends and opportunity to champion new sounds and artists from around the world pushing the genre forward."
The Born Dirty collaboration follows behind DJEFF's Time & Freedom EP and Walker & Royce's "Rave Grave" double single EP. Stream the new release on all platforms here. 
FOLLOW DIPLO:
Facebook: facebook.com/diplo
Twitter: twitter.com/diplo
Instagram: instagram.com/diplo
SoundCloud: soundcloud.com/diplo
FOLLOW BORN DIRTY:
Facebook: facebook.com/borndirtymusic
Twitter: twitter.com/borndirtymusic
Instagram: instagram.com/borndirtymusic
SoundCloud: soundcloud.com/borndirtymusic