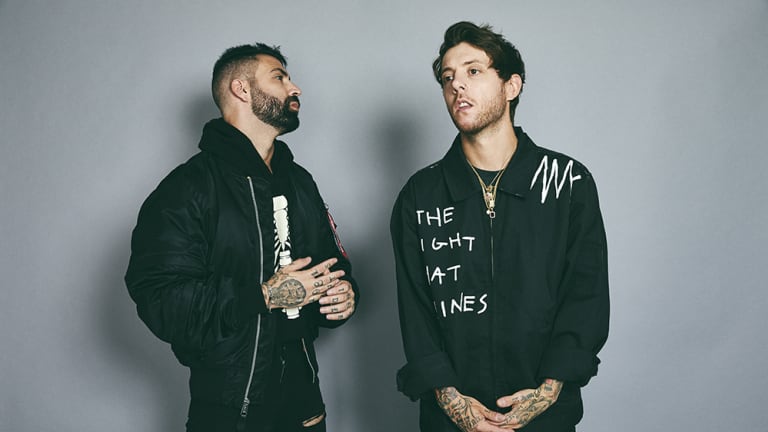 Breathe Carolina Release Long-Awaited LP, DEADTHEALBUM
The Denver duo have finally unveiled their genreless, 10-track album, DEADTHEALBUM.
While electronic duo Breathe Carolina (comprised of David Schmitt and Tommy Cooperman) have been on a relentless release schedule putting out high-caliber singles every few months, fans haven't heard a full-length album from them since the release of their Savages LP in 2014. The duo set out to change that early this last year, and by the way of Big Beat Records and Spinnin' Records, they've have finally unleashed their 10-track LP, DEADTHEALBUM. 
Coming from their eclectic background of producing rock n' roll and emo-tinged anthems, Schmitt and Cooperman highlight the best of their all-embracing attitudes in their latest LP. Across the 10 masterfully-crafted tracks, the duo bridge together elements from R&B, pop, and dance making DEADTHEALBUM a sonic trophy of the duo's creative prowess.
The album opens with their September single, "TOO GOOD," which has already hit nearly 2 million streams since its release. Fans of the duo will recognize three previously-heard singles from the LP, including "TOO GOOD," "LIKE THIS," and their latest release, "DRIVE." The spellbinding body of work delivers radio-ready tropical house tracks infused with originality. Confident vocals delivered by Schmitt laid over the colorful textures and melodies take the LP to a whole different level, making for an infectious collection of tracks. 
Fans can catch cuts of the DEADTHEALBUM LP live on Breathe Carolina's album tour. The duo have officially announced the first phase of the tour, which includes 15 tour dates throughout November until the start of 2020. Tour stops include China, Poland, and major cities across North America. They also have hinted at more tour dates to be announced soon. For all ticketing and tour information, visit here. 
Stream or download Breathe Carolina's DEADTHEALBUM LP, out now on Big Beat Records. 
FOLLOW BREATHE CAROLINA:
Facebook: facebook.com/breathecarolina
Twitter: twitter.com/breathecarolina
Instagram: instagram.com/breathecarolina
SoundCloud: soundcloud.com/breathecarolina