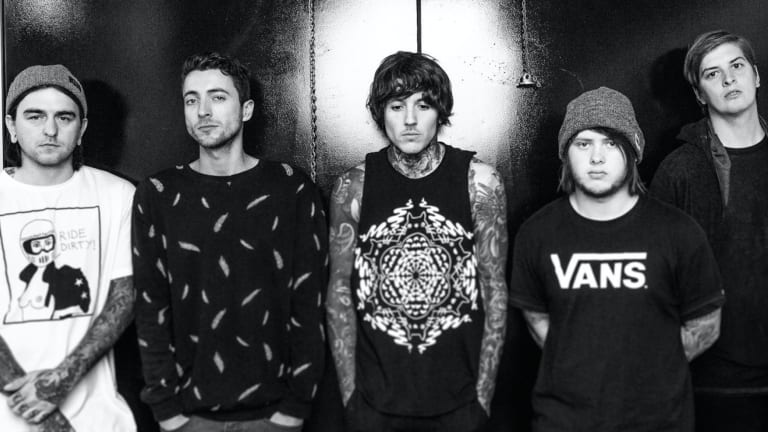 Bring Me The Horizon Releases Heavily EDM-Infused Album, amo
"It's no longer possible to call Bring Me the Horizon a rock band."
EDM acts have crossed over into rock music in droves lately - but the reverse may be happening as well if Bring Me The Horizon's new album is any indicator. The English quintet just released an album titled amo that derives significant influence from contemporary electronic music.
Plenty of the effort's 13-song tracklist holds true to their more recent fusion of post hardcore and alternative rock. Songs like "ouch," "fresh bruises" and "i apologize if you feel something," on the other hand, exhibit eclectic influences from various EDM genres. Of the lot, "nihilist blues" featuring Grimes has the most main stage-friendly sections for its four-on-the-floor beat structure and simple vocal.
The departure isn't lost on them, either. "It's no longer possible to call Bring Me the Horizon a rock band," reads the editors' notes accompanying the album on iTunes.
Bring Me The Horizon collaborated with EDM artists long before amo was a glimmer in their eye. The band's vocalist, Oliver Sykes, accompanied Skrillex onstage as far back as the latter artist's 2010 breakout - and a photo of the two hanging out together recently found its way to the public.
For that matter, Bring Me The Horizon are no strangers to stylistic evolution. The deathcore grit of their 2006 debut album, Count Your Blessings, is a far cry from the signature sound for which they later achieved worldwide fame.
Bring Me The Horizon's sixth studio-length album, amo, is out now on Sony Music. Stream or download it across platforms here.
Follow Bring Me The Horizon:
Facebook: facebook.com/bmthofficial
Twitter: twitter.com/bmthofficial
Instagram: instagram.com/bringmethehorizon