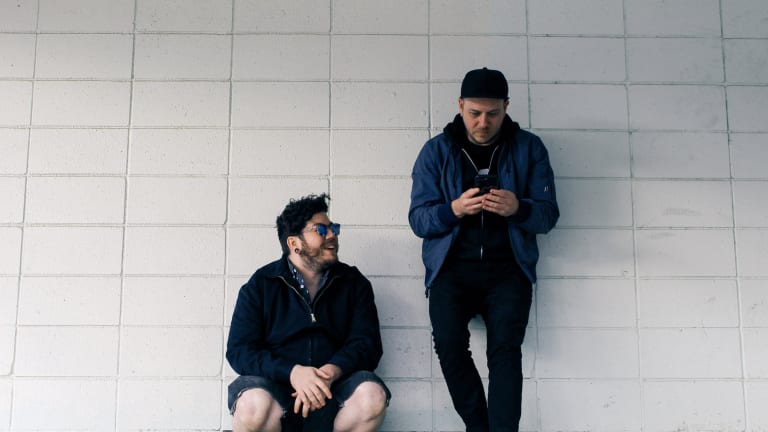 Bronze Whale Soundtrack the Late Nights with The Shape of Things
Bronze Whale's new album will help unwind the mind.
After an extended lead-up that yielded six singles, Texas duo Bronze Whale have released their full album, The Shape of Things. Bronze Whale (real names Benny Alley and Aaron Jaques) have been a duo since 2011, and while they've released longform projects in the past, The Shape of Things represents the group's first studio-length album and the start of a new chapter.
Citing RÜFÜS DU SOL and Miike Snow as creative influences, Bronze Whale have been honing their own blend of indie electronic, hip-hop, and future bass with exceptional results. Their first album single "One," released in 2018, best exemplifies their hybrid of influences. Vast, dreamy soundscapes and bright chords give Bronze Whale's lush sound room to breathe. While the album has vocals, their inclusion often feels more strategic rather than out of necessity, a nice change of pace from the hit-making mentality gripping many producers in 2019.
The duo have also increasingly put themselves in control of their own destiny with Alley writing and recording vocals on multiple album tracks including "One," and more recently, their rhythmic, triplet-driven track "Cruising." The multi-dimensional artists have found themselves in a particularly autonomous mood as of late, having additionally making the album's cover art themselves and forging the Magic Music Collective, through which the album has been released.
Of Bronze Whale's five never-before-heard works on the album, three tracks represent collaborations. Missouri-based singer/songwriter Khai joins the group on the dark and wistful "Burn Me" while fellow Texan Swanny Ivy joins in channeling the futuristic influences of "Valley Yum."
Bronze Whale's album The Shape of Things is out via the duo's own platform, Magic Music. Stream their debut album in full here.
FOLLOW BRONZE WHALE:
Facebook: facebook.com/thebronzewhale
Twitter: twitter.com/bronzewhale
Instagram: instagram.com/bronzewhale
SoundCloud: soundcloud.com/thebronzewhale