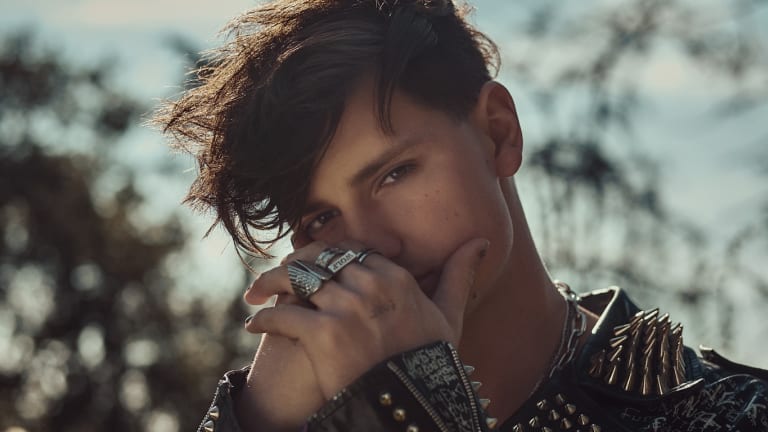 Get Close and Personal with CADE's R&B-Influenced "Yours" on Ultra Music
"It's about wanting to give everything I have for love."
CADE (real name Cade Larson) is no stranger to producing tracks packed to the brim with emotive, soulful lyrics. His willingness to express vulnerability in his music has played a large factor into his worldwide reach, earning him over 4.5 million monthly listeners on Spotify. Today, the 22-year-old producer adds another track to his already impressive catalog of music. "Yours" is out now on Ultra Music.
Reminiscent of popular R&B mixed with heavy electronic influences, "Yours" is a silky tune about the powerful feeling of falling in love. "This song is so special to me," the Tampa-Born producer wrote to his Facebook page. "I wrote and produced this one alone in my home studio. It's about wanting to give everything I have for love."
Describing the song as future R&B, Larson said he finds inspiration from artists such as Bryson Tiller, Disclosure and Porter Robinson, combining these influences for a genre-bending sound of his own. His last single, "Home to You" featuring rapper Desiigner perfectly showcases his fluidity between two styles.
His audience has come to love the duality. His most popular release was his and electro-pop trio Cheat Codes' remix of their single "Pretty Girl," which has been certified gold in the United States and platinum in the United Kingdom, with over 556 million streams on Spotify. Between global hits and sold-out shows, his music has also seen support across the entire music industry, with artists such as Jeremih, Kesha, Mike Posner, Pia Mia, and The Chainsmokers all expressing their appreciation of his tracks.
Up next for Larson, fans can expect an album titled WOLF BLUE coming soon on Ultra Music. Following the release of global hit "Warning Sign" in 2018, he was signed shortly after to the prestigious label. Since then, the talent producer says he has been working endlessly to piece together the perfect album. 
Stream or download Cade's single "Yours," out now on Ultra Music.
FOLLOW CADE:
Facebook: facebook.com/cademusicofficial
Twitter: twitter.com/cademusic
Instagram: instagram.com/cademusic
SoundCloud: soundcloud.com/cademusicofficial
FOLLOW ULTRA MUSIC:
Website: ultramusic.com
Facebook: facebook.com/ultramusic
Instagram: instagram.com/ultramusicofficial
Twitter: twitter.com/ultrarecords
Soundcloud: soundcloud.com/ultrarecords