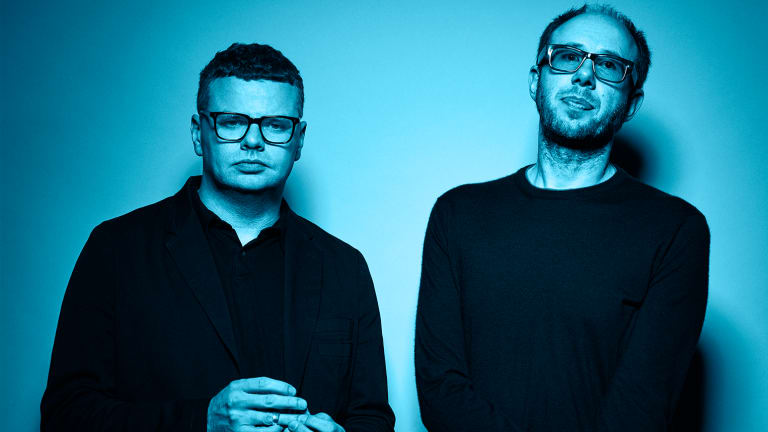 45-Track "CARE4LIFE" Compilation Features New Music from The Chemical Brothers, Maya Jane Coles, and More
Many major artists in the electronic music community have joined forces to support NHS Charities Together amid the COVID-19 pandemic.
London-based label Above Board Projects has released CARE4LIFE, an expansive charity compilation providing COVID-19 relief to NHS Charities Together, a collective supporting the National Health Service. According to a press released issued to announce the compilation, the project is "aimed at assisting and honouring our brave and skilled NHS frontline workforce in this most challenging of times."
Released on Bandcamp today, the album spans a whopping 45 tracks and features new music from many major underground electronic artists, including legendary production duo The Chemical Brothers. The tandem contributed a new remix of their single "Catch Me I'm Falling," which appeared on their Grammy Award-winning 2019 album No Geography. Other artists appearing on the compilation include Maya Jane Coles, Jamie Jones, Dusky, Pete Tong, Groove Armada, and Patrick Topping.
"Through the challenges of the Covid19 pandemic we have all developed a new understanding and awareness about the role our frontline health professionals undertake, and as a nation we are all united in our appreciation of the incredible work they have delivered in the face of much adversity and pressure in the last couple of months," said CARE4LIFE representatives in the press release. "In the continued spirit of people coming together in this time of need, the CARE4LIFE project hopes that this amazing collection of music can contribute to easing that pressure by giving some much needed support to these frontline workers from our fellow artists and friends in the music industry and its surrounding community."
You can purchase the compilation via Bandcamp here and view the full tracklist below.
CARE4LIFE Tracklist:

01: B.Traits - Rest
02: Daniel Avery - In Your Sleep
03: The Chemical Brothers - Catch Me I'm Falling (Losing You Mix)
04: Apiento & Tepper - Blossoms
05: Luke Vibert - That's ill folks
06: Locussolus (DJ Harvey) - NextToYou (Kiwi Remix)
07: FYI Chris - SWH (No Boundaries)
08: Matthew Herbert - Indigo
09: Luke Solomon - Wait
10: Groove Armada - He's On My Heart
11: JD Twitch - Is It All Over The Place
12: Laima, Iggor Cavalera, Joe Goddard and Mutado Pintado - Play Doh
13: Playgroup - Ringpiece
14: K-LONE - Undercliffe
15: Nathan Fake - Arboretum
16: Big Miz - Merak
17: Hammer & James Shinra - Lunar Seven
18: Jas Shaw - Joy Multiplication
19: Crooked Man - This Time
20: Clark - Laptop Stand
21: Damian Lazarus & The Ancient Moons - Levitate
22: Jamie Jones & Kate Simko - Mind Games ft. Laizer
23: Maya Jane Coles - Keep It Moving
24: Joe Goddard featuring Amy Douglas - Workin'
25: Miguel Campbell & Benoit Ft. Beccs Lott - Blonde Bomb
26: Dusky - Justified
27: Dense & Pika - Pleasure Stacker
28: Mason Maynard - Black 'N' White
29: Solardo x SOSA Featuring Richard Judge - Chemical Edge
30: Eats Everything - It'll Be Over Soon
31: Patrick Topping - Totality
32: Pete Tong and John Monkman - Aquarius
33: Nic Fanciulli - The Return Of Mango Flow
34: Jaden Thompson - Eve's Drop
35: Waze & Odyssey - Plus & Minus
36: Radio Slave - Sabre
37: Nightwave - Sadhana
38: SCB - KTS3E
39: Lauren Lo Sung - Lucid Dream
40: Archie Hamilton - Waiting Game
41: Laura Jones & Karousel - No Borders
42: Jordan. - Quar
43: Thoma Bulwer x Anna Wall - Peace Of Mind
44: Nova Cheq - Dopamine Domain
45: 3Strange - Xylophone Funk