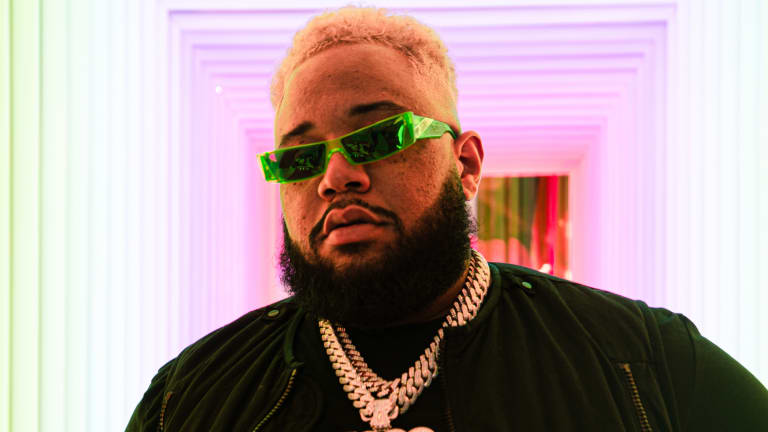 Carnage and NAZAAR Unleash The Insanity That Is "Blitzkrieg"
Watch the music video here.
Carnage (real name Diamanté Anthony Blackmon) is back with another heavy hitter to melt your face off. This time around he has enlisted the help of rising Arab artist NAZAAR (real name Farhan Zahir). "Blitzkrieg" is an assault on the senses. This is Blackmon's first track back in the bass music/EDM game this year after a string of hip-hop collaborations. The Las Vegas-based producer dropped the music video along with the release to further emphasize the insanity of the song.
They ease us in with a muted buildup, but right as the title screams through, you know all hell is about to break loose. The heavy-hitting bass will make even the most trained headbanger lose their mind. A special treat lies in the middle interlude with a partially inspiring, partially irreverent speech. The voice encourages Blackmon's army to not let society control their actions, to do what they want in the face of those pressures. He channeled this anarchy into a three-minute video that is not recommended for those with photosensitivity.
Blackmon is coming off a few successful releases in the urban market with the release of "Wait For Me" featuring G-Eazy and Wiz Khalifa and "Letting People Go" featuring Prinze George. Just last year he announced he was going on a music hiatus after the recommendation of his therapist and doctor. It's great to see that he is back and better than ever.
Zahir recently released his Legacy EP, which blew fans of dubstep away. Since releasing "Full Speed" in 2017 and "A Dance With Death" in 2018, he's caught the attention of various influential producers including Alison Wonderland, The Chainsmokers and Excision. His live set is said to be one you do not want to miss if you dabble in dubstep.
FOLLOW CARNAGE
Facebook: facebook.com/djcarnageofficial/
Instagram: instagram.com/carnage
Twitter: twitter.com/djcarnage
SoundCloud: soundcloud.com/djcarnageofficial
FOLLOW NAZAAR:
Facebook: facebook.com/NAZAARmusic/
Twitter: twitter.com/nazaarmusic
Instagram: instagram.com/nazaarmusic/
Soundcloud: soundcloud.com/nazaarmusic