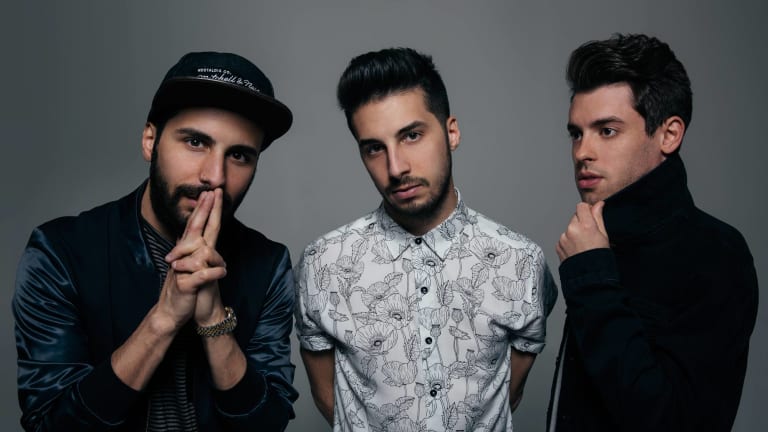 lovelytheband's "broken" Gets the Cash Cash Remix Treatment [Premiere]
Cash Cash transforms one of 2018's top hits into an epic dance floor anthem.
Remix masters Cash Cash strike again with the latest addition to their growing roster of dance floor-ready pop transformations. EDM.com is proud to premiere the stunningly vibrant track a day in advance.
Tackling one of this year's top alternative pop hits, "broken," by lovelytheband, who also happen to be on Billboard's "10 Rock & Alternative Artists to Watch in 2018," Cash Cash had quite a lot to live up to - and they did.
From beginning to end, the "broken" makeover is nothing short of lovely. Keeping the essence of the original with its telltale guitar riff, heavy use of one strum electric guitar chords, and the lyrics in their entirety, EDM trio put their signature spin on it with a combination of big room buildups and trap drops. 
Characteristic of today's catchy dance pop tracks, the song is a worthy remix of the massive alt-pop hit. "broken," the first single off of lovelytheband's debut album, finding it hard to smile, has an audience of over 90 million weekly and 1.5 billion in total on the radio alone. Since its release, the song continues to rank within the top 10 on multiple adult top and alternative top charts. 
Though it's a successful radio hit, at first listen, "broken" doesn't seem to be a likely contender for a remix. However, brothers Jean Paul and Alex Makhlouf along with Samuel Frisch, the trio behind Cash Cash, were up for the challenge. Having remixed other pop hits like P!nk's "What About Us," Kelly Clarkson's "Love So Soft" and Liam Payne's "Bedroom Floor," the New Jersey DJs are no strangers to turning pop hits on their heads. They certainly did just that and more in reworking one of today's biggest hits on RED MUSIC. 
Follow Cash Cash:
Website: cashcashmusic.com
Facebook: facebook.com/cashcash
Twitter: twitter.com/cashcash
Instagram: @cashcash
Soundcloud: soundcloud.com/cashcash
Follow lovelytheband:
Website: lovelytheband.com
Facebook: facebook.com/lovelytheband
Twitter: twitter.com/lovelytheband
Instagram: @lovelytheband
Soundcloud: soundcloud.com/lovelythebandofficial