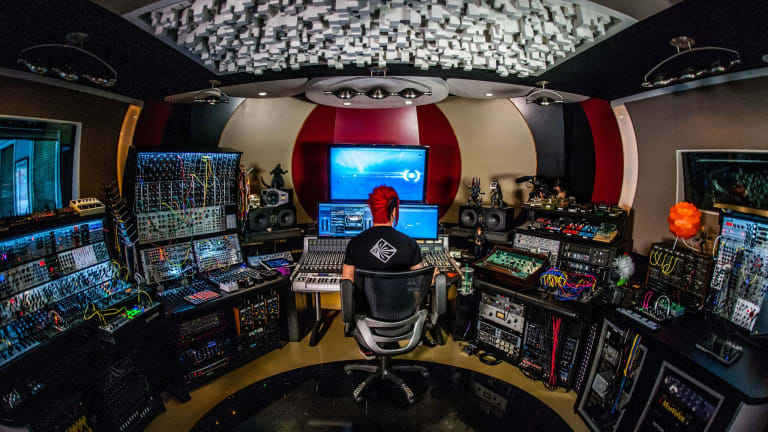 Celldweller's "Eon" Gets Massive Remix from Au5 [EDM.com Premiere]
Au5 brings his signature cutting-edge ferocity to Celldweller's metal monster "Eon."
A near-legendary veteran producer and musician who has long dwelt on the fringe of the world of electronic music, Celldweller has been honing his signature blend of metal, rock, industrial and electronic music for over two decades. 

With multiple albums under his belt, as well as countless TV and film placements and a slew of well-performing side projects, Celldweller has cemented his legacy as a pioneer in the realm of genre fusion, and a producer of the highest caliber. Under the umbrella of his label FiXT, Celldweller has also inspired a generation of extremely talented artists also looking to explore the cross-over spaces between genres with the singular goal of creating something fresh, new, and undeniably powerful.
The latest FiXT / Celldweller project, a full-length remix album of his sophomore Wish Upon A Blackstar LP, focuses heavily on his love of drum and bass as well as other aggressive EDM subgenres, enlisting talented producers such as Au5, Gydra, Sebastian Komor, Biometrix, The Anix, and Fury Weekend.
"Au5 brought his pristine production and immersive energy to the track by infusing jaw-dropping bass and synths warps while retaining the heart of the song," said FiXT VP and co-founder James Rhodes on the remix.
It just so happens that EDM.com has been supporting Au5 since he won the Seven Lions "Days To Come" Remix Competition with OWSLA back in 2013, just a few days after our website launch. When we heard he was going to be putting his signature twist on Celldweller's metal-infused monster of a track "Eon," we knew we had to be involved.
Speaking on his remix, Au5 said:
"Eon was an absolute pleasure to remix. The original is a masterpiece in my opinion and I knew if I were to remix it I'd have to do it justice.... I produced a lot of metal in my teen years and it was a blast getting to revisit those vibes with my modern production style. I think this remix is probably one of the heaviest and darkest things I've made yet. I hope it inspires." 
On that note, and without any further adieu, we present you with the world premiere of Au5's "Eon" Remix:
While you're at it, make sure to check out the rest of the Remixed Upon a Blackstar, available for pre-order on October 26th and out on retail Nov 23rd.
FOLLOW Celldweller:
Facebook: https://www.facebook.com/celldweller
Instagram: https://www.instagram.com/klaytoncelldweller
Twitter: https://twitter.com/celldweller
Soundcloud: https://soundcloud.com/celldweller
FOLLOW Au5:
Facebook: https://www.facebook.com/TheAu5
Instagram: https://www.instagram.com/au5_official
Twitter: https://twitter.com/Au5music
Soundcloud: https://soundcloud.com/au5