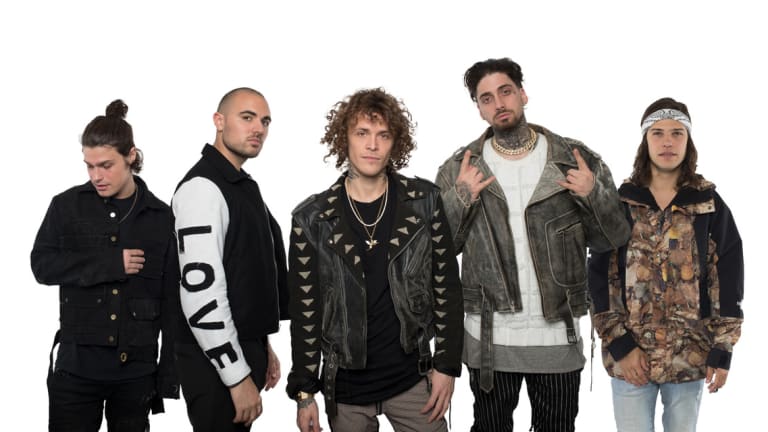 Cheat Codes Drop New Single Ahead Of Sunrise Set At EDC
Cheat Codes is taking over our Instagram at their EDC set Saturday, check it out!
LA-based trio Cheat Codes just released a new song with Canadian duo DVBBS just in time for their set at EDC, and it's a bonafide festival anthem.
"I Love It" kicks off with sultry vocals from Cheat Codes' own Trevor Dahl. Moody guitar plucks and a steady beat adds to the emotive soundscape. That's before the drop, which kicks the energy into high gear. Feel-good melodies and bright synths take center stage, while a deep house bassline lurks in the background, creating a sound that's diverse, upbeat and entrancing. It's the pop-EDM sound fans have come to love Cheat Codes for.
The single is the second track off their upcoming "Level 1" EP, slated for a June 1st release date. Cheat Codes dropped bass-fueled "Balenciaga" a couple of weeks ago, creating a buzz for their summer EP. With what we've heard so far, seems like Cheat Codes wants to showcase their electronic music prowess, exploring distinct facets of electronic with each release.
Performing this weekend at the famed Electric Daisy Carnival Las Vegas, the trio is bound to play some unreleased tracks off the EP. Cheat Codes has the vied-for sunrise set at the circuitGROUNDS stage, a stellar slot that has a beauty of its own as the set ends when the sun rises. A perfect trigger to channel emotion through music, and maybe the perfect time to hear Cheat Codes' new feel-good single "I Love It?"
PS: In anticipation of EDC, Cheat Codes took over our Spotify playlist for the week. Listen below for an exploration of their sound as well as their personal favorite tracks. And keep an eye out for Saturday, when they take over our Instagram at EDC!