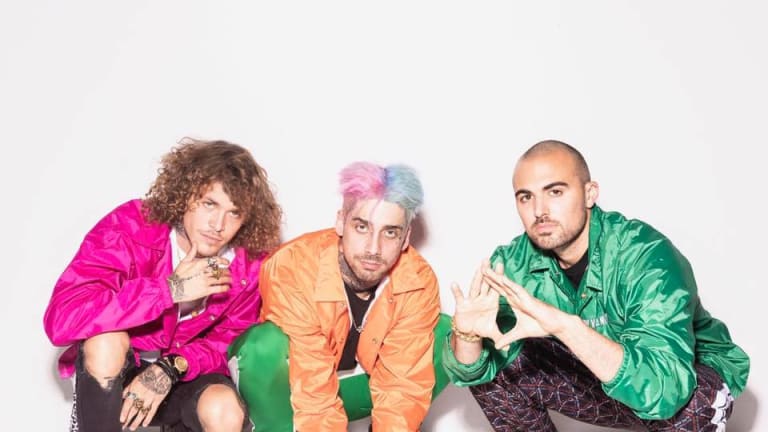 Cheat Codes and Kaskade Join Forces on Newly Released "Be The One" [Interview]
Cheat Codes walks us through the new track and what it's like working with Kaskade.
After dropping "Be The One" at Ultra Music Festival last week, Cheat Codes and Kaskade have wasted no time in releasing their latest collaboration. 
The electrifying, chilling track mashes together both artists' distinct styles and creates a unique drop that'll leave your jaw hanging open. To give you an idea of what that sounds like, the L.A. DJ trio told us the track reminds them of the Stranger Things theme and it could be something that might just fit in Tron. 
EDM.com had the chance to talk to Matt Russell, one third of Cheat Codes (that also consists of Trevor Dahl and Kevin Ford aka KEVI), about the new track, the possibility of a Fortnite event for their fans, and how streaming has helped them and other artists. 
EDM.com: How did you come to work with Kaskade on "Be The One?" Was it something you guys were putting together on your own and then enlisted him or was he involved right from the start?
Matt Russell: Actually, we were working on a different track and he had the instrumental and the vocal idea written. Trevor sang it and he thought it was really dope and down to put it out. Then we were like, "Hey we should do a club record as well, like a banger." The other original track kind of fell by the wayside, so you never know what's going to end up working. Sometimes you have to try a bunch of different ideas.
When you're working on songs like "Be The One," what's the process like creating a track. Do you normally write the song first and then start working on it in the studio?
Kaskade had the drop - well, he had the instrumental and then we wrote a top line to his instrumental. From there we kind of realized that the verse instrumental didn't really match the vocals as much, so we tweaked the verse instrumental and then we had to tweak the drop into this kind of triplet timing which you could hear if you listen to the track. It's almost like swung and we've never done a track like that ever, but it's part of why we really like it. It's very unique and different from anything we've ever done. 
Our process is such that sometimes things come together really quickly and it's like, "Oh this works perfectly, insert vocal here or instrumental here," but a lot of times it's like, "This section could be tighter." Once you fix that, it's like, "This other section is more obvious and needs fixing too." And then you kind of do that ten times and you get to a point where you're like, "I don't want to change anything about this now, I think it's how I want it to be." It's a lot of trial and error.
So then when you run into these roadblocks, how do you get out of them?
We usually work on other records. We might spend the day in the studio, like what I said, writing the top line and then bounce it and send it to Kaskade. Then sit with it a couple of days. The next day in the studio we might work on a completely different track. 
By the time we get back to the song again to listen to it, we have fresh ears. If you've forgotten the specifics of the song and then you play it for the first time again, that initial reaction that you're feeling is most likely closer to what the listener's going to feel. We try to emulate that a little bit because sometimes it's easy to get demo-itis, which just means you get married to the first thing that you did.
That's the interesting part about collaborating with someone. Sometimes you can be very resistant to the ideas that the other person brings to the table because you're so married to the original ideas that you fell in love with. In this instance, us and Kaskade were pretty much on the same page every time. Once we changed the verse and rewrote the vocal, we basically were like, "Oh I think the drop is off," and he fixed it and made it perfect in like a day.
What was it like working with Kaskade, was there anything you learned from him?
He's such an OG. He's been doing it for so long since back in the heyday of house music, so it's interesting to hear his perspective and just how he puts his shows together. We spent some time with him in Miami over Miami Music Week, we played Ultra and made a cameo at one of his parties at the SLS.
Actually, I did a three-mile run with him. We ran three miles and then he directly got on stage for his set. He didn't take a break or anything, he was just like, "okay." I think when you've been doing it for that long, it's so habitual and the process is very down pat where you can do things like that.
For us, there's a lot of thought being put into everything that we're doing because we're still unsure about certain things - where with Kaskade it's instinctual. You get that experience and you gain that wisdom.
Also, when you're working with someone like that you really trust their opinions because they've been doing it for so long. When we have an idea and he's like, "Yeah I was thinking the same thing," it's like, "Okay sick!" It reaffirms your instincts and gives you a little more confidence, which is cool. 
What's your favorite collaboration so far?
We really liked "No Promises" with Demi Lovato. Our good friend Ari who's in a project called Lauv, when he showed us the song he wasn't really that big and we thought the song was dope. So we thought Demi Lovato would be a good idea. She heard the record and she loved it. I think how everything came together on that, how we felt like it was going to be big and, as far as reaching out to the biggest artist that we could think of, we just went for it. And she killed the vocal. So it was a really fun process.
For a more recent one, "Ferrari," that we did with Afrojack just because we want to do more records where it's us singing and doing the vocals as well as the production. For that record, KEVI is rapping on the verses, Trevor's doing the hook and then we collaborated on the track with Afrojack. Doing records like that is great because they work seamlessly, like in our live set how you go see us at the club or at a festival and it's our own thing that nobody else could recreate as far as a DJ group. We're rapping and singing and DJing, so we're down to do a lot more records like that.
Obviously all three of you write and produce your music together, but do any of you really shine at one or prefer one over the other?
We all come from different backgrounds, so we all bring that to the table individually. Trevor used to be in a singer/songwriter acoustic pop project before and KEVI was doing hip-hop. I was doing urban pop and making beats. I bring a lot of ideas to the table and I'm good at brainstorming and overall concepts. Like "What if we tried this, this and this together," and then seeing the reactions of the guys and if I'm on the right track or not.
Trevor is really good with melodies and storytelling. He's really good at producing and sound design, like making some fresh sounds and finding good samples as far as drum samples and our beats. KEVI is really good at lyrics, punchlines and specific metaphors and comparisons. At the end of the day the test for us is if we all like the record. Some of us are pickier than others, but if all three of us like it, then we at least know it's a good song.
What's the most memorable time you've had with them working on something?
We have our own label, Too Easy, and we have an artist named Danny Quest who released music on our Level 1 EP. We have a song with him called, "Not Safe For Work (NSFW)" and then we have this new artist named Trixie, so we've been working on her project. We were all really excited about it and it got us back to that feeling of when we first started Cheat Codes with oh we can do that and we could do this.
We're very involved, not just on the label side, but on the creative side as well with pitching ideas and different things that she can do. She's a female DJ and it's going to be almost like if DDR was modern dance music. If you can imagine that, keep on the lookout for Trixie. She's going to be dope.
Cheat codes are a part of video games and since we're talking about them, is there a video game you guys find yourselves playing all of the time?
We just started playing Fortnite and we're on Twitch. The last few days we've been posting our streams and it's been pretty fun. We grew up on N64 and the original Playstation and Xbox, so it's interesting to see that everyone plays online now. When we play online, our die hard fans are playing with us, which is really cool. It's interesting that that's another way to connect with your fans. So we play Fortnite, Rocket League and NBA2K.
Do you ever hope to have an in-game concert like Marshmello?
That'd be very cool. I'm still learning, but I think it'd be cool to create a little house and invite fans to come through and do something cool. I mean, this is real life for people who play all of the time. It's just as real and it's a virtual meeting place, so that's sick. 
With everything being online now, do you think it was easier for you guys to get to where you are now because of it?
We wouldn't be anywhere without Spotify, for example. It just comes down to radio not wanting to give our song a chance multiple times and then it becomes the #10 song on Spotify and it's getting two million streams a day. That's more important than radio because it's direct income you're making as an artist. 
For that to happen to us basically twice where we have two viral songs that don't even get considered to be pushed to radio in America, but they're multiple platinum songs... it's crazy to me. I don't think that could've happened five or ten years ago. It's amazing and it just goes to show it's about the fans and it's going to come down to what the fans want to hear.
You also get really quick feedback. If you put out a song, you'll know right away if it's not performing amazing or who it's catered towards. Not every song is going to be a pop hit, but you can literally look and be like these are the people that listen to my song the most and who am I reaching. Am I reaching the diehard dance fans who are going to come to the club or festivals and see me perform or am I reaching just a casual listener who's only listening to us because we're on a playlist. I think all of that information allows artists to do their jobs better and artists are becoming more business savvy.
So are you guys working on an album or going on tour? What else is next for Cheat Codes?
We're doing our Level 2 tour right now. We're hitting places all over the U.S. and playing at some colleges. We're also finishing up our next dance album, Level 2. It's going to be similar to Level 1 which we put out last year. So we're going to be releasing songs from that and it's going to be awesome. 
Follow Cheat Codes:
Website: cheatcodesmusic.com
Facebook: facebook.com/cheatcodes
Twitter: twitter.com/CheatCodesMusic
Instagram: @cheatcodes
Soundcloud: soundcloud.com/cheatcodesmusic
Follow Kaskade:
Website: kaskademusic.com
Facebook: facebook.com/kaskade
Twitter: twitter.com/kaskade
Instagram: @kaskade
Soundcloud: soundcloud.com/kaskade