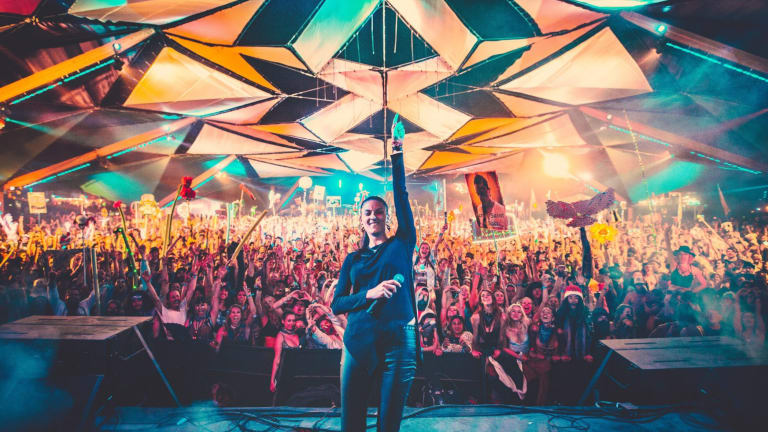 Escape from Reality with CloZee's Debut LP, EVASION
Travel to your very Own "Secret Place" With CloZee's Debut Album EVASION
Captivating, comforting, nostalgic and immersive; all of these words describe, and yet utterly fail to capture the essence of the album that is CloZee's LP, EVASION.
In the past, many have attempted to categorize her music as "world bass," a portmanteau of the terms "world music" and "bass music." CloZee has generally accepted this classification, as it is nearly impossible to define and thus equally difficult to refute. As suggested by the term, CloZee makes use of a wide range of organic sounds and instruments, many of which originate from a variety of different cultures around the world. This much is irrefutable, but is it as readily indicative of her artistic intent as initial appearances would indicate?
After discussing this terminology with her, it became clear that incorporating these disparate elements of unique cultures into her music is more the incidental result of her goals as a musician and less a specific desire to incorporate distinct cultural elements. "I want to make my listeners feel understood, to feel safe, secure, comfortable, nostalgic… and confident in themselves," she told EDM.com in an interview.
Rather than casting her own voice into the public discourse regarding mental health (as many other artists and public figures have recently done), CloZee has instead chosen to make use of her position of influence to spread a message of positivity, support, inclusivity, and community directly through her music.
In order to better grasp her thought process on a more visceral level, I asked her two simple questions that often prove [surprisingly] insightful: "What is your favorite smell?" and "What is your favorite texture?"
Seemingly random, the way these questions are answered reveals a great deal about how an individual interacts with their senses, and how they perceive the world around them. With CloZee in particular, these revelations proved to be very telling.
Her favorite smell? "The scent of my mother's scarf, with a touch of perfume…. secure, comforting… filled with good memories."
Her favorite texture? "A warm, soft blanket. Comfortable and safe."
Both of these responses indicate a clear pattern in how CloZee thinks, and are very telling in how she goes about evoking specific feelings and emotions in her listeners.
Flume, Kaytranada, The Chemical Brothers, More to Play Goldenvoice's New San Francisco Festival, Portola
The two-day festival will also feature sets from James Blake, Arca, Peggy Gou, M.I.A, Four Tet, PinkPantheress, DJ Shadow, and more.
CloZee's motivation for utilizing sounds and instruments from all over the world is less out of a desire for diversity, and more the direct outcome of her efforts to evoke feelings of nostalgia, understanding, and relatability in a wide variety of listeners from all over the world.
To recreate these same deep emotional states in her listeners, CloZee must tap into an ever-increasing variety of "worlds," each custom tailored to inspire these feelings in a different type of individual. For over six years CloZee has crafted a countless variety of immersive soundscapes with the singular goal of providing her fans with an escape to a place where they feel confident, respected, and understood.
For each person that place, that escape, is different and uniquely their own. The Evasion LP is a culmination of CloZee's efforts to transport her listeners to their proverbial "Secret Place," somewhere where they too can feel comfortable, safe, and loved.
"EVASION in French means 'escaping the reality," she told us. "I'm beyond happy for you to finally be able to listen to my album, and to travel to your own secret place."
For many, that place might be found in "Aurora," a song designed to capture the experience of a sunrise; a pervasive sense of warmth and the feeling of greeting the day, of a new beginning.
For others, that sense of acceptance and understanding might best be found in "Desert," a sonic exercise in wavy vibes, exotic melodies, and calm, quiet confidence.
Regardless of the desired destination, CloZee remains committed to exploring every facet of our existence, undaunted in her mission to render the most captivating of environments into musical worlds ready and open for exploration, for an "Evasion" of reality.
Don't miss out on the opportunity to catch CloZee on the remainder for her Evasion Fall Tour, coming to a city near you with select North American, European, and Australia dates. Grab tickets before they're gone at her website.
Follow CloZee: 
SoundCloud: https://soundcloud.com/clozee
Facebook: https://www.facebook.com/CloZee
Twitter: https://twitter.com/CloZeeMusic
Instagram: https://www.instagram.com/clozeemusic