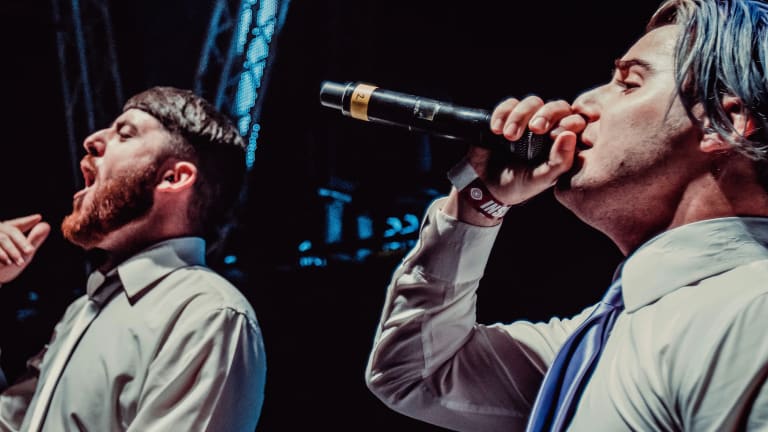 Corporate Slackrs Enlist Eliason for Bright Single "Faith"
The producer and DJ duo are back with another vibe.
Just a month after releasing "S.M.S.," DJ and producer duo Corporate Slackrs have returned for another expertly produced song, this time teaming up with vocalist Eliason on "Faith." The song marks the second and final single before their debut EP, following bass-heavy "Fire In My Eyes" and poppy "Wasted Love" featuring vocals from Emma Zander, out on Tiësto's Musical Freedom. 
"Faith" continues on the songwriting-centric approach of "S.M.S." yet elevates that to a new level. A catchy guitar melody supports Eliason's vocal lines before organic claps and other elements are added in. The drop, that comes quickly, explodes into a sequence of brass stabs, anthemic vocals, and explosive drums. 
"'Faith' is a record about begging someone to take one more chance (knowing that you probably don't deserve it)," said Eliason on the song. "I remember working with Devin and AJ on this song at their studio, and that Devin already had the idea for the chorus and the name. He showed me the instrumental and, having grown up in the church, I was immediately excited - it had this real gospel element that I loved, and a big stomp section like 'We Will Rock You.' The verses just kind of spilled out, and I took Devin's idea for the chorus and we strung it all together." 
Flume, Kaytranada, The Chemical Brothers, More to Play Goldenvoice's New San Francisco Festival, Portola
The two-day festival will also feature sets from James Blake, Arca, Peggy Gou, M.I.A, Four Tet, PinkPantheress, DJ Shadow, and more.
Corporate Slackrs have had quite a run since they started releasing music in 2016. Their relatable themes and consistent delivery on the production side have allowed them to tour with Adventure Club, as well as release music on labels such as Spinnin' Records, Dim Mak, Musical Freedom and more. 
Follow Corporate Slackrs
Facebook: facebook.com/CorporateSlackrs
Instagram: instagram.com/slackrsinc/
Twitter: twitter.com/slackrsinc
SoundCloud: soundcloud.com/slackrsinc