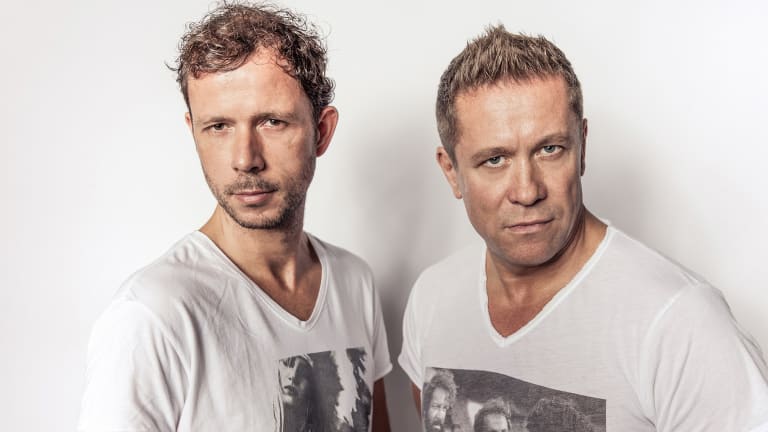 Cosmic Gate Releases "Light Years" Ahead of 20 Years-[Forward Ever, Backward Never] LP
The LP 20 Years – [Forward Ever, Backward Never] is out August 23rd.
German trance legends Cosmic Gate officially hit their 20-year anniversary this year. The duo (real names Claus Terhoeven "Nic Chagall" and Stefan Bossems "Bossi") have been breaking ground in the trance scene since the late '90s and have rode through the ebbs and flows of the ever-adapting genre. 
They are now off on their Forward Ever, Backward Never tour in lieu of the upcoming LP of the same name. Today they are here to deliver the next single off the 16-track LP aptly titled "Light Years". Yet again, it's clear these two truly are light years ahead of the pack. 
The track is fully instrumental, flexing their cinematic epic breakdowns. It's melodic and pulsing in all the right ways. The euphoric journey that Chagall and Bossi take us on is reflective of the last 20 years during which they have graced us.  
The duo shared in regards to the upcoming LP their intention to "take us closer to the 360 of who we are, where we've been and where we're going." It will be the greatest hits melded with new productions such as "Light Years" and their previously released "Come With Me" and "Need to Feel Loved" featuring Foret. The latter single brought them their first-ever Grammy nomination. Some tracks that have been reworked include "Lizard" and "L.E.D." 
The 20 Years – [Forward Ever, Backward Never] LP is one you will not want to miss. It comes out August 23rd and you can pre-save/pre-order it here. 
FOLLOW COSMIC GATE:
Facebook: facebook.com/cosmicgate
Twitter: twitter.com/cosmicgate
Instagram: instagram.com/realcosmicgate
Soundcloud: soundcloud.com/cosmicgateofficial