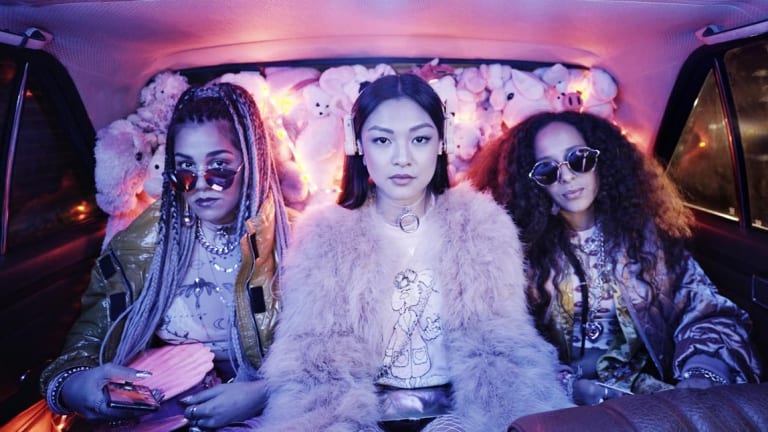 German-Chinese Electronic Group C.O.W. 牛 Release EP, EPIC, Premiere "Cringe Lords" Video
C.O.W. 牛 merge music and visual art to create a captivating and fully immersive multi-sensory experience.
An electronic group and multi-media music collective composed of four anonymous members hailing from China and Germany, C.O.W. 牛 strive to merge the worlds of music and visual art in such a way as to create a truly captivating and fully immersive multi-sensory experience. In furtherance of that goal, the members of the group have perfected their character and brand image to the point where they - or she - would prefer to be seen as a singular female entity. 
Most recently, C.O.W. 牛 represented her German affiliation by signing to cult German indie label Compost Records, for the release of her newest three-track EPIC EP, as well as the music video for the single "Cringe Lords." The direct follow up to the first single release of "Shang Dang," EPIC spans a wide range of styles, all of which are rooted in a futuristic, bass-driven, fun-loving atmosphere that flows fluidly between a diverse variety of electronic music genres. 
Asked about the release, C.O.W. 牛 said:
"Everything is EPIC. At least we're deceived into believing that. Our eyes are guided towards the beautiful. The internet, but more specifically, social media is a place of worship of the flawless. "Lords" plays with those themes and highlights this trope by shining light on the ugly, the hidden and madness of a world that made authenticity a commodity. The text and video depict the paradox and pain of a world that could be used to make us more human instead of making us less of what is natural. The instrumental and beat, however, are truly EPIC." 
What is particularly special about C.O.W. 牛 is that the project has truly taken on a life of its own. The "group" is a deliberately crafted character that serves as an avatar for them as a whole, and every aspect of the music and the live performance is meticulously designed to reinforce that image. When asked about C.O.W. 牛's approach to both music production and brand development, Michael Reinboth, the curator, and founder of Compost Records noted:
"C.O.W. 牛's visual and musical images, as well as their social media skills, and also their social critical behavior, are well thought out. Musically, they're simply fresh and open. They're not stuck in IDM, trap, downbeat, hip-hop, cold wave, electro or whatever. They're just great tunes. Visually, they have a strict concept—which is fantastic. Even if they are four guys, they're dealing with female images because one of their ideals and topics is that women shall and will rule the world for a better one."
FOLLOW C.O.W. 牛:
Website: cowcowcowcow.com
Facebook: facebook.com/cowregards
Twitter: twitter.com/COWregards
Instagram: instagram.com/cowregards
SoundCloud: soundcloud.com/cowregards