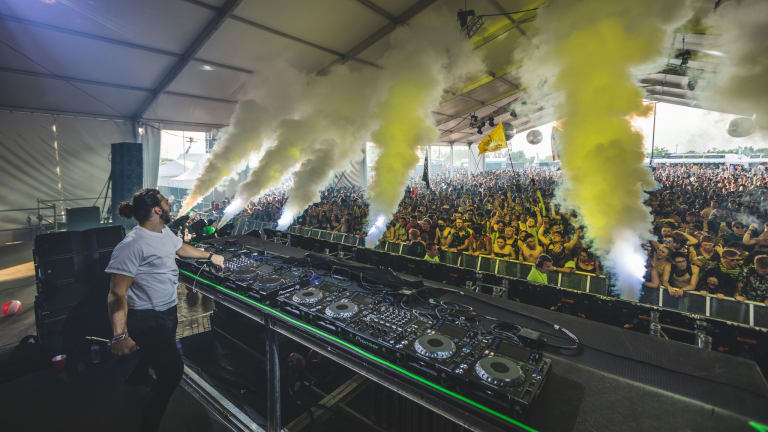 Crankdat Shows Off Melodic Side in New Single, "Falling"
After a run of heavy-hitting dubstep tracks, Crankdat has returned to Monstercat to remind fans of his softer side with "Falling."
Still on the high from his aptly-titled Halloween EP release, FEARWORLD, Crankdat returns to Monstercat to remind fans of his softer, more melodic side in his new single, "Falling." 
Unlike his horror-inspired singles off of FEARWORLD, which unleashed screeching bass and supercharged drops, "Falling" features a sultry, soft-spoken vocal and an uplifting melody. Crankdat (real name Christian Smith) zeroes in on his future bass repertoire, creating a heart-rending fusion between his gritty, gear-inspired bass sounds with a more lush vocal."It's been a while since I've done some pretty stuff," Smith wrote to his socials.
Similar to the beautifully crafted single, "Nothing Matters" of his GEARWORLD VOL. 1 EP, Smith carried a sorrowful tone throughout the track with impassioned, longing lyrics. Though fans have seen this side of Smith in small doses throughout his career, the multi-faceted producer seems to be pushing himself to new heights and experimenting with more vocal-based tracks.
"Falling" leaves listeners yearning for more as they anticipate the next chapter in Smith's creative journey. 
Stream or download Crankdat's "Falling," out now on Monstercat.
FOLLOW CRANKDAT:
Facebook: facebook.com/crankdat/
Twitter: twitter.com/crankdat
Instagram: instagram.com/crankdat/
SoundCloud: soundcloud.com/crankdatmusic